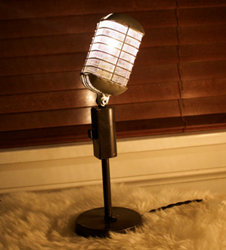 It's what you give that counts.
12th South, Nashville (PRWEB) March 09, 2015
Industrialighting started as an experiment to find an outlet for personal creative energy. This then led into a hobby, and finally blossomed into a business for the owner and artist, Read Hauck. In order to keep up, an artist has to do their part in meeting the demand of the public's enthusiasm. Due to many requests, Industrialighting is finally expanding, offering a custom music instrument and relics collection of lighting fixture specifically for the music lover.
The Vintage Microphone light has been hand crafted and specifically designed to reflect the spirit of the melodies that many of the customers have become attached to over the years. Each light is handmade. Standing 15 inches tall and 5 inches at the base, the microphone is perfect for any side table, office, studio, or personal listening area in any home or sacred area. Its soft glow is enough to light up any room with that special energy that only comes from the recollection of a favorite melody, which the artist brings to life through the microphone itself.
Other fixtures are created from drums, horns, strings, and any other worthy instrument. These creations are available in limited quantities until the remaining fixtures on the inventory shelf are sold. Industrialighting is a Nashville-based lighting design studio. They are located in the 12th South District and have been creating unique fixtures from a variety of unique items for 3 years now.
They have been able to secure a number of music industry celebrities as loyal customers and also offer their fixtures to the general public on Etsy and also a company website. To contact Read for custom lighting projects, you can call their studios at 615-604-8882 or readhauck(at)gmail(dot)com.