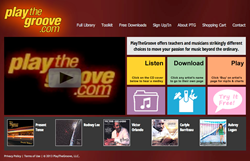 Music education has changed. It's a new paradigm.
Los Angeles, CA (PRWEB) September 10, 2013
PlayTheGroove (PTG), a new digital music chart distribution company, is pleased to announce to the music education community the introduction of a new digital content delivery system through their platform playthegroove.com. The system promotes a new way of teaching contemporary music, jazz and world styles through content specifically aimed at individual musicians and teachers. At launch, products available for individuals include lead sheets for all instruments and reference mp3s. For teachers, PTG's proprietary Platinum Unison Charts contain all of the necessary parts, scores and guidelines for any size group with a rhythm section in any horn configuration.
Patrice Rushen, jazz musician and educator and advisor to PlayTheGroove, reinforced the company's vision with the following statement. "Music education has changed. It's a new paradigm. We're trying to get the kids into music where they are and introduce it to them in that way so they can play music successfully, feel that feeling of what it's like to work with others, doing what you love, creating that groove."
PlayTheGroove has spent the last eight months building their e-commerce site, conceptualizing new approaches to chart and content creation, and codifying guidelines and methodologies designed to increase teacher effectiveness and to speed learning. All products and support materials were developed with notable educational professionals and are available for immediate digital download through their website.
"After observing numerous 'jazz band' classes and working with students in clinics, I felt there was a better way to teach students rhythm-section-based music," said Richard Frank, the founder and CEO of PlayTheGroove as well as being a professional musician and record producer.
"My first conclusion," Richard said, "was that in order for students to effectively learn this type of music, they need to have music that is relevant and accessible to them—but still be educational from a teacher's standpoint." Frank also believes there is a 'status-quo' that interferes with bringing modern world styles into educational situations. "Many students are being taught outdated music that fails to prepare them for a future in today's entertainment industry. At PlayTheGroove, there is a better way to teach young adults, and that music can take you further than you think."
Musicians and educators who wish to learn more can visit PlayTheGroove.com or contact Richard Frank at 818.514.4784. Artists or educators who wish to contribute to PlayTheGroove are also welcome to contact PlayTheGroove through their website.
About PlayTheGroove
PlayTheGroove's mission is to create a necessary paradigm shift in music education. The company offers teachers and students a one-stop destination for digital PDF charts and mp3s in modern world music styles. The company offers individual lead sheets for all rhythm section-based instruments and group packs that include all parts, scores and guidelines a teacher needs for a school group of any size to perform the song.
All songs, charts and teacher guideline are edited and educationally approved through a team of music educators and are crafted to be played by groups of any size or instrument makeup.
Contact:
Richard Frank, Founder and CEO
818.514.4784
richardfrank(at)playthegroove(dot)com
http://www.playthegroove.com