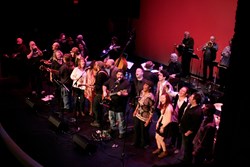 Local non-profit Music in Common and the Rev Tor Band join forces to re-create the Band's classic concert film The Last Waltz, live at the Mahaiwe Performing Arts Center.
Great Barrington, MA (PRWEB) November 04, 2013
Music in Common (MiC) announces a special live performance of the Band's classic 1978 concert film The Last Waltz on Sunday, November 10 at 7:30PM at the Mahaiwe Performing Arts Center in Great Barrington, MA featuring the Rev Tor Band and more than two dozen local artists. This is the second year running MiC has produced the concert at the Mahaiwe, which serves as the organization's largest fundraising event of the year. The show includes renditions of all the hits by the Band featured in the film, such as "The Weight," "Up On Cripple Creek," and "The Night They Drove Old Dixie Down," as well as songs by Bob Dylan, Neil Young, Eric Clapton and many more. Musicians from the local music scene perform the songs of the film's original special guests. This year's new line-up of artists includes the Rev Tor Band, Randy Cormier and Tim Sears of Whiskey City, Ashleigh Catsos, Mary Verdi, Robert Kelly, Todd Mack, Caroline Mack, Pete Adams of Dooley Austin, students from local Music in Common youth programs, John Clarke and Lisa Anderson of Bell Engine, Jennifer FamilyJones Schultheis, Dan Esko, Bruce Mandel, JoAnne Redding, Jeff King of the Jeff King Band, Jeff King of the Kings, Arthur Holmes, Lisa and Fran Mandeville of the Beeline Ramblers, Eileen Markland of Rakish Paddy, Tor Stumo, Sam Crawford, Billy Keane, Jeanne Johnson, and Rob Sanzone.
Tickets are on sale here and from the Mahaiwe Performing Arts Center box office by calling (413) 528-0100. For sponsorship & playbill advertising opportunities, contact Emily Edelman at emily(at)musicincommon(dot)org or 413-591-8234.
The Last Waltz LIVE is a fundraiser for Music In Common, Inc., a locally based non-profit organization whose mission is to strengthen, empower, and educate communities through the universal language of music. Music in Common produces free, publicly accessible concerts, school programs, and multimedia productions that provide a platform for people to discover common ground through the exchange of ideas and collaborations. Based in the Berkshires of western Massachusetts, MiC has toured to nearly 200 communities across the U.S., Middle East, and Far East, and operates multiple programs locally, nationally, and internationally. For the past eight years, it has maintained an active presence throughout the tri-state area, working in schools and communities in Berkshire, Litchfield, and Columbia counties.
For more information, images, or to arrange for an interview with Last Waltz LIVE producer and Music in Common executive director Todd Mack or Last Waltz LIVE musical director Tor Krautter, please contact Melissa Zeigler, melissa(at)powderfingerpromo(dot)com or Emily Edelman at emily(at)musicincommon(dot)org / 413-591-8234.