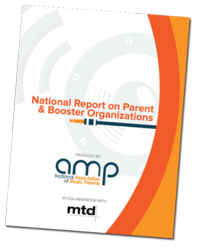 Indianapolis, IN (PRWEB) July 09, 2013
Parents and students nationwide are picking up school district budget shortfalls, outpacing them by an average of 32%, according to a new study released today by nonprofit National Association of Music Parents (AMP) and MTD Research. Amidst budget cuts nationwide, surprising new data indicates that students and their families outspend local school districts' contributions 49 to 37 percent (excluding salaries and benefits).
"While I applaud the willingness and determination of our nation's music parents as they pick up the financial shortfalls to support their children's music education and involvement, we must change the focus," said Scott McCormick, AMP founder and president. "While raising supplemental money for our music programs is important, it should not be the main objective. Parents must work to educate our decision makers that cutting or eliminating school music and arts programs is shortsighted and contrary to what is best for our children. A complete 21st century education must include music and the arts to develop critical and creative thinkers. American business and industry cry out for a new creative class of Americans. I can think of no better way to develop that creative class than by the creativity and character music education provides our children."
As school districts nationwide struggle to balance increasingly smaller budgets, many of them rely heavily on parent and booster groups to pick up the financial slack. AMP found that a large percentage of booster groups use their funds to provide adequate instructional staff, musical instruments, music and uniforms.
This information is just one piece of never-before-collected data from over 3,200 music educators representing all 50 states and the District of Columbia. AMP and MTD partnered to create a short survey designed in part by expert music educator and AMP Board member Dr. Tim Lautzenheiser. The National Report on Music Parents and Booster Organizations provides data informing music educators, parents, and their communities as to the similarities, differences and trends amongst school music parent programs nationwide.
According to MTD Founder/CEO Mike Danforth, the results of this report include demographics on each participating program, including school and music program location, size and offerings; and the presence, type, and participation of music booster or parent organizations. The report also provides a detailed look at financial information, breaking down budgets including allocation of income and expenses, and providing a community wealth index indicating household incomes for the respondent schools.
A copy of the complete report can be accessed at http://www.AMParents.org/boostersurvey. MTD and AMP have created an online interactive visualization tool to explore the data more fully at http://www.MTDresearch.com/BoosterSurvey.
About AMP:
The National Association of Music Parents (AMP) is the first nonprofit organization of its kind to champion the concerns and interests of music parents and music booster groups nationwide. The mission of the National Association of Music Parents (AMP) is to grow a grassroots national movement that brings together all stakeholders in music education to uphold the interests of America's music students and to ensure that music and the arts remain essential disciplines in 21st century schools. AMP provides resources and education helping music parents engage and volunteer more efficiently and advocate effectively for the children's access to a quality music education.
About MTD:
Gathering, analyzing and providing information on schools arts programs nationwide, MTD Research, based in Colorado Springs, Colorado, is the recognized knowledge leader on data in the school music & performing arts domain.