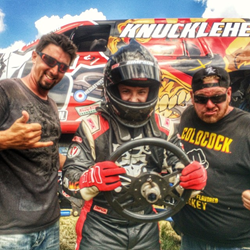 I asked him if he wanted to drive a monster truck...
Pomona, California (PRWEB) August 28, 2014
It started during a casual conversation at a restaurant in Sweden, two guys on tour in two completely different industries. Zoltan Bathory was there with his band, global music sensation, Five Finger Death Punch, and Chris Kurtz of the marketing firm, The Mediatwist Group, who was there producing a show with Monster Jam, a Feld Motor Sports production, the biggest of it's kind, featuring headliner trucks like Gravedigger and Max-D. Chris had run into bassist, Chris Kael in downtown Stockholm, a completely 'chance' meeting, as Chris Kurtz recalls. "I decided to find the most rock-star looking tattooed guy that would actually talk to me, I spotted Kael from afar and walked up to him. We had instantly realized we were both lost Americans looking for a warm meal and cold beer." During dinner Chris gravitated towards Zoltan,guitarist and the adrenaline junkie of the group, and most likely to steal a monster truck next door and 'take it for a spin'. "I asked him if he wanted to drive a monster truck and he said, 'O HELL YES'. I knew about his bucket list and how extreme of a personality he was. I told him I would be in touch."
Chris and his team at The Mediatwist Group enlisted the help of monster truck legend and driver, Jimmy Creten. Jimmy and his Team 2Xtreme accepted the offer and have been hard at work since March, developing a half-a-million dollar, state of the art machine, they call "Knucklehead Monster".The truck is affectionately named after the mascot of Five Finger Death Punch, Knucklehead.
Zoltan met with Jimmy and his team for a private test drive and learning course in May at Camp Creten in Kansas before taking the stage at RockFest, in front of over 40,000 music fans.
After many months of training and development, Zoltan and Team Knucklehead Monster will make their debut this weekend at the "Flip Fest Monster Truck & Motocross Stunt Spectacular" in Pomona, California. Alongside members of the World famous, Metal Mulisha and Fitz Army. For the first time ever a platinum selling music artist will freestyle a 1,700 horsepower monster truck. Tickets are available through Ticketmaster, search 'Flip Fest' in Los Angeles.
Zoltan and Knucklehead Monster Truck will circle the globe this winter. For more information, check out facebook.com/knuckleheadmonster