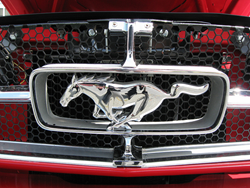 We have expanded our internal components inventory for Ford brands of sports cars to help more people find preowned units for installation
Pittsburgh, PA (PRWEB) October 29, 2015
New parts for select vehicles are available for consumers to buy through the Auto Pros website online. The company is now offering Mustang radiator core support units for cars built after 1980. All used condition stock can be reviewed or compared for sale pricing at http://autoprosusa.com/radiator-core-support-mustang.
The radiator support units that are now made available through the web ordering center at the APUSA website are in used condition. These models are distributed by select auto junk yards that are a part of the nationwide network of suppliers offering Ford Mustang components. All editions will be shipped with the regular warranty plans that feature 90 days of coverage.
"We have expanded our internal components inventory for Ford brands of sports cars to help more people find preowned units for installation," said one seller at the AutoProsUSA.com company.
The radiator core units that are available to ship are editions that were removed from salvaged Mustang cars across the United States. A person interested in estimating the cost for Mustang radiator support repair will be able to explore the price discounts and other information now included with each product online.
"The used Mustang parts for sale that we now offer include more undercarriage components that can be hard to locate when using some second hand resources," said the seller.
To complement the replacement radiator parts, the Auto Pros company is also supplying preowned headlights for Mustang vehicles. Nearly all trim models are in stock and available for order this year. Consumers can find data for these units now posted at http://autoprosusa.com/2001-mustang-headlights.
About AutoProsUSA.com
The AutoProsUSA.com company is now offering more used condition vehicle components for Ford, GM, Toyota and other automaker brands on its website. The available products in stock and distributed by chosen salvage companies. The AutoProsUSA.com company now accepts direct orders for its inventory through its website shopping system that is offered on the homepage.