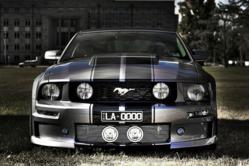 These automatic and manual units have been entered into the online inventory of assemblies for sale.
Green Bay, Wisconsin (PRWEB) July 07, 2013
The GotTransmissions.com company is helping buyers of previously owned transmissions to benefit from its Mustang transmissions price drop at http://www.gottransmissions.com/blog/ford-transmissions/ford-transmissions-sale.
Ford Mustang is currently the only vehicle in the Ford lineup with a production schedule spanning more than 50 years. The engines and transmissions used for this vehicle series have been produced internally and outsourced through other companies.
This reduction in sale price for the performance series gearboxes is expanding upon the everyday low prices that can be found for company inventory. The new drops in price are attached to the automatic and manual units that have been used in the past 30 years for Ford vehicles.
"We're a retailer strictly for used transmission types from most popular automakers," said an inventory specialist at the GotTransmissions.com company. Most automakers have performance divisions that produce higher horsepower vehicles that are marketed to a specific consumer group. The Ford Mustang is one example of a performance vehicle created and marketed by Ford.
"A range of Mustang transmission units have been used in the production cycle," the inventory specialist added. Because of this variety, acquisition efforts by the Got Transmissions staff have resulted in the most common replacement units that are currently offered through secondary market distribution partner companies. These automatic and manual units have been entered into the online inventory of assemblies for sale.
The price drop announced for this series of company inventory is combined with a shipment change for new and existing customers. Freight charges can increase the purchase price of transmissions due to the excessive weight and special handling involved.
Removal of shipping charges is one new component of each online order that is placed on the company website. This freight removal change is now attached to the Ford, Chevrolet, Dodge and other automaker inventory for sale.
About GotTransmissions.com
The GotTransmissions.com company sells replacement gearboxes preowned from most domestic automakers online. The pricing that is attached with the company inventory remains low due partly to better negotiations with automotive supply businesses. Consumers using this company as a trusted seller online are greeted with a growing inventory and offer for no charge shipping. The GotTransmissions.com company makes daily updates to the content on its website to provide a complete research method for customers making decisions to buy from the expanding preowned inventory currently accessible.