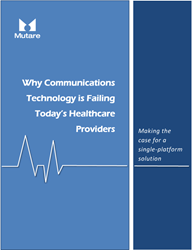 Smart Notification Platform Tackles $8 Billion Healthcare Communication Problem
Rolling Meadows, IL (PRWEB) September 12, 2013
Drawing from a combination of research, clinician surveys and experiential accounts from a major healthcare center Chief Technology Officer, this whitepaper is aimed at hospital administrators, IT officers and others on the decision-making front line. Key takeaways include:

Understand the Fallout: See how a breakdown in communication between healthcare personnel poses a major threat to the safety of patients and the financial solvency of hospitals;
Promise and Failure of Communication Technology: Understand the pros and cons of current technology when met with the limitations of "working memory," particularly in high stress healthcare environments;
The Power is the Platform: Explore the advantage of consolidating multiple communication technologies into a single platform for simple, secure, mobile access and delivery.
Readers will gain insight to the failure of current technology tools to fix the problem. The paper includes an overview of Mutare's single-platform messaging solution that combines two-way secure communication, mass notification and patient engagement tools to deliver better clinical collaboration, improve patient safety and drive higher quality of care.