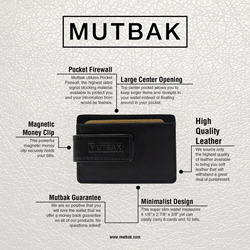 The Bunker uses "Pocket Firewall", the highest signal and data protection available to guard the contents of the wallet from information thieves
Salt Lake City, UT (PRWEB) February 22, 2016
There's no doubt that identity and credit card theft becomes more of a serious problem everyday. The scams used by criminals also has steadily increased in complexity and effectiveness. Fortunately, there's also hard work being done and products developed to protect against these issues. Enter Mutbak, a new company launched by a former hacker and security expert, who recently announced the launch of their first product, a Premium Quality Leather Wallet with RFID Blocking Liners designed to protect the wallet owner's sensitive information.
"I am so excited about our release of the Bunker," commented Trevor Christiansen, founder of Mutbak, former hacker and professional internet security expert. "It has taken us a long time to get to this point but I feel it was worth the wait in order to provide our customers with the best RFID wallet available and combine it with a slim – minimalist style front pocket wallet. Our mission is to keep our customer's data safe and exceed even very high expectations. The Bunker is a great product that we are sure is going to attract a lot of attention and inspire discussion."
According to the company, the Bunker uses "Pocket Firewall", the highest signal and data protection available to guard the contents of the wallet from information thieves. The front pocket wallet features a special design to block 13.56 Mhz signals while still allowing 125 Khz signals to penetrate the metallic fabric, protecting data while still allowing an access card to operate. This provides a very valuable combination of security and ease of use, something that most "on the go" business people can truly appreciate.
Despite the immense technology described in the introduction video that has gone into the design and manufacture of the Bunker, every effort has been made to keep the price point low. Currently set at an introductory $24.99, the Bunker is right in the price range of other quality slim wallets that don't come close to having the same security features. This is expected to make the interest in the Bunker rise fast.
Early reviews for the Bunker have been positive across the board.
Chris C., from Boston, recently said in a five star review, "The idea of someone grabbing the data off my cards and running through my accounts, or worse, is very unsettling. A friend who is plugged into the electronic security scene suggested I check out the Bunker. I ordered one and couldn't be more pleased. It does exactly what's promised, looks great, can hold everything I need and is very comfortable in my front pocket."
Security conscious individuals that are interested in finding out more about this product are encouraged to Like Mutbak's Page on Facebook to join the growing community of individuals interested in protecting their digital identities.
Amazon shoppers looking for Mutbak's new Front Pocket Wallet can purchase it exclusively through Amazon: http://www.amazon.com/Mutbak-Pocket-Blocking-Genuine-Leather/dp/B01BJUVIP0/ The product retails for $24.99, but for a limited time customers can save 20 percent by entering code BNKR20YT at checkout. This product is backed by Mutbak's 100 percent money-back guarantee, which promises a full refund. No questions asked if dissatisfied.