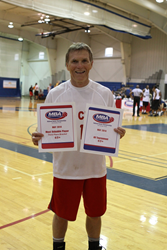 Whole-food nutrition is an integral component of my life," says MVP basketball player and Activz Founder, Frank Davis. "Competing in the Masters Senior Championships with exceptional athletes from all over the nation is a great honor.
Coral Springs, FL & Salt Lake City, UT (PRWEB) May 21, 2014
Frank Davis, founder of Activz Whole-Food Nutrition, was named "Most Valuable Player" in Masters Basketball Association National Senior Championships. Frank Davis competed with his team in the 65+ Age Division to win the Bronze Medal. The MBA National Senior Championships, held May 4th -9th in Coral Springs, Florida, is a five-day tournament of highly competitive full-court basketball with seven age divisions ranging from 40+ to 70 which includes several former professional players.
The Masters Basketball Association which extended MVP honors to Frank Davis, a 5'8" amateur competing with 65+ age category players which included former professional and college players, stated Frank burned up the court with his energy and enthusiasm. Frank, who has always played basketball as an amateur, attributes his physical success in the tournament and his healthy life to his twenty-year commitment to eating whole-food nutrition.
Frank Davis, 67, admits his success at the Senior Championships is especially powerful because he was not blessed with healthy family genetics. Frank says he was always the sickest of his siblings until he turned his life to whole-food nutrition. When Frank discovered a solution that led to optimal health, he felt impressed to share his whole-food success with others who were seeking a healthy-living solution. The result is Activz, a revolutionary new line of supplements and produce powders that help individuals quickly increase their daily nutrition.
"Competing in the Masters Senior Championships with exceptional athletes from all over the nation is a great honor," said Frank Davis. "When players ask me how I play with so much energy and want me to share my secret, I tell them how I have made whole-food nutrition an integral component of my life."
Several of the suggestions Frank made to tournament players include adding Activz Complete and Activz Krill, two flagship supplements of Frank's own Activz brand, to their daily diets. According to Frank Davis, taking the Activz Whole-Food Nutrition supplements and powders changed his life.
"Activz Complete is specifically designed to provide robust immune support and sustained overall health from the power of whole foods," said Frank Davis, MVP Athlete and Activz Founder. "Complete provides a balanced spectrum of nutrients from 9 servings of organic fruits and vegetables – the same number of daily servings recommended by the CDC and USDA to prevent disease and enjoy optimal health over time."
Activz Krill Oil is the most bio available, potent krill oil on the market today. Unlike heavily synthesized mixtures, Activz' proprietary blend draws on the healing properties of three ingredients found directly in nature.
Activz also includes a new line of produce powders that can help individuals quickly increase the nutritional value of any meal. Activz' produce powders are easy-to-use, preservative-free whole-food powders – available in a variety of organic fruit, vegetable and grasses options from organic kale, beet and carrot to organic mango, strawberry, blueberry and more – that retain all the nutrition of fresh produce thanks to Activz' patented dehydration process, a method which gently evaporates only the water molecules while leaving vital nutrients intact.
For more details about Frank Davis and his whole-food nutrition story and his Activz produce powder line known for its slogan, "Whole-food Nutrition. Simplified to a Scoop." Please visit http://www.activz.com.
About Activz:
Activz, Whole-Food Nutrition. Simplified is found in over 700 stores nationwide. Activz is a natural products company devoted to providing "food actives" – the living, bioactive nutrition of whole foods – in the most convenient forms possible, all while retaining 100% whole-food integrity. Activz supports the "Stealth Health Revolution" campaign aimed at helping millions of families, who have long believed they must choose between healthy eating and convenience, incorporate whole-food nutrition into their lives. For more information about Activz, visit http://www.activz.com or call (855) 782-0447.
About the Nation's Most Highly Acclaimed Masters Basketball Tournament:
The MBA National Senior Championships is a five-day tournament of highly competitive full-court basketball. Seven age divisions range from 40+ to 70+, and the tournament includes the "best of the best" players in age divisions that sometimes feature a number of former professional players. The 2014 tournament was on the 30th Anniversary of the tournament in South Florida, the 14th played in the Coral Springs Gymnasium and the 6th under the supervision of the Masters Basketball Association. The MBA's Senior Staff has a national reputation for operating this tournament at the highest level of quality for over sixteen years. http://mastersbasketballassociation.org/