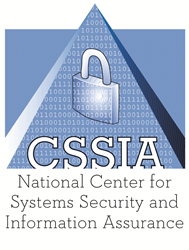 We are seeking the top talent pool of cybersecurity specialists and this competition suits our needs.
Palos Hills, IL (PRWEB) August 28, 2014
What does UPS, Community Health Systems and Jewel Osco have in common? They are the newest addition to the many data breaches that are sweeping the nation. Companies large and small are on high alert to ramp up their cybersecurity efforts. The National Center for Systems Security and Information Assurance offers businesses sponsorship opportunities to support the Midwest Collegiate Cyber Defense Competition (MWCCDC) on March 27 - 28, 2015 at Moraine Valley Community College, Palos Hills, IL to reap the benefits of being able to observe & recruit from the next generation of cybersecurity specialists.
"We love sponsoring the MWCCDC," state Kim Tran-Young, Manager of Staffing Operations at Palo Alto Networks, "We are seeking the top talent pool of cybersecurity specialists and this competition suits our needs."
According to the recent Risk Based Security report, hackers have not played favorites targeting nearly all company sizes with the business sector suffering a staggering 54.9 percent of all breaches. Last year's Target hacking epically affected the company as 40 million credit and debit cards were stolen and 70 million records of shoppers were stolen. Target not only lost $148 million because of this breach, it cost them their CEO, CIO and consumer trust.
The massive cyber-attack by a group of Russian hackers has definitely upped the ante as it's likely the largest one to date, amassing 1.2 billion user names and passwords along with 500 million email addresses. More than 420,000 websites fell victim to this cybercrime ring. The Community Health Systems, which operates 206 hospitals across the United States, announced last week that 4.5 million patient data was stolen. Data breaches at this magnitude affect every aspect of a company or organization including tragically losing millions of dollars.
The MWCCDC tests "real-world" skills as elite teams of cybersecurity warriors from colleges and universities in Wisconsin, Ohio, Illinois, Indiana, Kentucky, Iowa, Missouri, Minnesota and Michigan. These teams inherent a mock business infrastructure and are required to protect it from a professional group of network penetration testers called the "red team" (A.K.A. "hackers"). Teams will be judged and scored on their ability to maintain services and protect data housed in their systems. Businesses get a bird's-eye view of these cyber geniuses as they observe, interview and recruit during the event.
"The MWCCDC organized its competition nicely to accommodate the sponsors", states Robert Brickey of Army INSCOM, "We wish every CCDC would use this format!"
The MWCCDC offers speed networking interviews, a job fair & hands out student resumes, sponsors are getting a big bang for their buck. To sponsor the 2015 Midwest Regional Collegiate Cyber Defense Competition, go to http://www.cssia.org/ccdc.