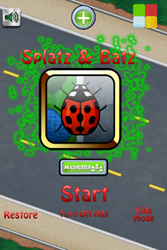 Worldwide (PRWEB) October 25, 2013
Mountain Woods Media, LLC has released a new version of its iOS app "Splatz and Batz" with new game features including NextPeer multiplayer compatibility.
The free app, available in Apple's App Store, is based on the concept of helping insects avoid busy, oncoming highway traffic in order to keep the bug character from becoming a "splat" on a windshield.
Players have the opportunity to choose from four bug characters – (all free) and can earn points by collecting leaves, dandelions and pieces of candy.
The new version (v1.2) adds:

Starting the game with additional character lives.
Opportunity to earn extra lives during game play.
Earn "Power Ups" during game play, which increase game speed and/or create additional scoring opportunities.
Game levels.
Social media integration with Facebook and Twitter.
Mute sound.
Apple's Game Center and NextPeer's Multiplayer are also included for head-to-head and tournament play. Players can turn off ads within the game and/or add a Kids Mode for invincible game play, for a small additional charge.
Mountain Woods Media, LLC is a mobile application (app) development company specializing in creating business, hobby, special-interest and game apps.