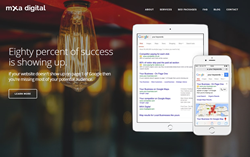 MXA Digital, new Managed SEO firm launched
Belfast, Northern Ireland (PRWEB) May 01, 2015
Successful NI IT firm, Xootec, launches new Managed Search Engine Optimisation arm, MXA Digital. MXA Digital will focus on increasing their clients' sales by getting them on page 1 for Google search results.
MXA Digital uses up to date, tried and tested methods to improve clients' search engine rankings and increase the flow of visitors to their websites. They also offer local keyword exclusivity to avoid conflicting interests.
The difference between MXA Digital and other SEO companies is that MXA Digital only uses legitimate techniques that will not be banned by Google or cause sites to be blacklisted for falsification. MXA Digital provides a Managed Service Programme which keeps clients involved in the process and up to date with comprehensive reports and stats.
Sales Manager Jonathan Rogan described the launch of the new business as:
"An exciting opportunity to help local businesses compete for attention in an ever expanding marketplace. Our goal is to become the go-to supplier for Managed SEO in the UK and Ireland. Our results prove that our methods work long term. It's great for us to support local businesses in this way."
MXA Digital welcomes businesses in the UK and Ireland to take advantage of its free ranking analysis. This allows MXA Digital to confirm that they will be able to get a client on to page 1 of Google's search results for specific keywords before taking them on.
For more information please go to mxadigital.com
About MXA Digital
MXA Digital is a new division of Xootec Ltd. We specialise in helping our clients gain more customers by ranking their websites in Google for profitable keywords.
About Xootec
Xootec is a successful Managed IT Support and Services organisation based in Belfast, Northern Ireland. We are now in our 9th year of growth, providing support and consultancy services to SMEs in the UK and Ireland. We are also a Microsoft partner and an Office365 Migration specialist.
For more information about us, please visit http://www.mxadigital.com
For updates, please connect with us on Linkedin https://www.linkedin.com/company/mxa-digital/
ENDS
Contact Info:
Name: Jonathan Rogan
Position: Sales Manager
Email: jonathan(dot)rogan(at)mxadigital(dot)com
Organisation: MXA Digital
Address: First Floor, The Stables, Sir Thomas & Lady Dixon Park, 237 Upper Malone Road, Belfast, BT17 9LA
Phone: 08456 800 250