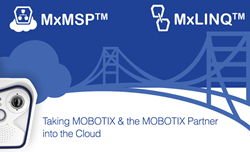 We developed MxMSP™ and MxLINQ™ to give our partners the opportunity to securely and remotely monitor, configure, and manage their MOBOTIX projects as well as the opportunity to increase revenues and boost customer services
DALLAS (PRWEB) March 28, 2019
ABP Technology just launched MxMSP™ – an innovative management and recurring revenue platform for integrators who sell MOBOTIX cameras. MxMSP allows integrators to manage video surveillance projects, lower installation and maintenance costs, provide end users video cloud storage, and offer customers a unique branded camera monitoring application that includes access to cloud recordings, analytics, IoT devices, and more.
"We developed MxMSP™ and MxLINQ™ to give our partners the opportunity to securely and remotely monitor, configure, and manage their MOBOTIX projects as well as the opportunity to increase revenues and boost customer services," said Robert Messer, ABP Technology President. "MxMSP is a win-win for system integrators and their customers. System integrators can move from a 'break fix' to a preventative maintenance business model and can eliminate many unnecessary visits to customers while resolving incidents remotely.
Powered by IPTechView's RMM platform, MxMSP is designed primarily for MOBOTIX video surveillance camera installations and gives integrators and technology partners the capability to remotely and securely monitor and manage deployments. The cloud-based MxMSP platform acts as an Element Management System (EMS), Remote Monitoring and Maintenance (RMM), and (PPM) Predictive Preventive Maintenance all-in-one while maintaining secure connections to all cameras, network attached storage (NAS), and other connected IoT devices, and secure and private access to authenticated partners and users. It enables the capability to remotely manage and view video from cameras, local NAS, or associated video stored in the MxMSP cloud.
All already deployed MOBOTIX cameras can be easily connected to the MxMSP platform and additionally, MOBOTIX partners can purchase MOBOTIX IP video surveillance cameras MxMSP-ready, pre-configured for easy setup. Partners can remotely connect to all devices as soon as they are plugged in and remotely finalize a project via MxMSP, regardless of network equipment and with no local server.
MxMSP also allows integrators and partners to create their own branded Video Surveillance as a Service (VSaaS), providing end-users cloud-based viewing via the MxLINQ™ companion WebApp, video storage and analytics, alerts, and video verification.
The MxLINQ companion cloud-based Video and Device Management System (VDMS) provides end users their own unlimited access to their MOBOTIX cameras and recorded video while eliminating the need for system integrators to do any port-forwarding. This results in a more secure and efficient solution and better customer service.
The innovative MxMSP platform was given the "New Business Idea of 2018" award at the MOBOTIX Global Partner Conference held in Germany last November and just successfully ended an 18-month BETA period with thousands of devices deployed in 20 countries worldwide.
For more information on MxMSP, visit https://www.abptech.com/mx-msp
About ABP Technology
ABP Technology is a value-add Specialty Distributor for IP Technology Solutions. Our carefully handpicked solutions, expert support, partner empowerment, evolving vision, and dependable delivery provides our Integrator Partners the best tools and gives them a competitive edge to knock their business goals out of the park. We're here to help Resellers and Integrators grow their businesses by making things easier for them and providing solutions that sell, that work well, and that will provide a profit. For more information, visit http://www.abptech.com/mx-msp
About IPTechView™
IPTechView, Inc is the developer of MxMSP/MxLINQ and specializes in Remote Monitoring & Management (RMM) platforms for IP Technology products like VoIP PBXs, unified communications, physical security, video surveillance, access control, and both wired and wireless IP infrastructure. The IPTechView platform goes way beyond traditional RMM monitoring of PCs and servers and is a multi-tenant and multi-vendor tool that includes QoS, SLA monitoring, reporting, and business tools for MSPs and technology partners everywhere. The company serves Technology Partners of many kinds such as IT integrators, resellers, VARs, MSPs, ITSPs and WISPs. Find out more at http://www.iptechview.com.