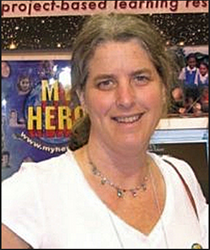 We're excited to honor Jeanne Meyers with a Golden Goody Award for inspiring a positive media movement for over 20 years through The MY HERO Project. ~ Liz H Kelly, Goody Awards Founder
Santa Monica, CA (PRWEB) November 17, 2016
The MY HERO Project Director and Co-Founder Jeanne Meyers will be honored with a Golden Goody Award (top humanitarian award) this Saturday, November 19, 2016 during their 12th Annual International Film Festival and Multi-Media Awards Ceremony. This lifetime achievement award will be presented to Jeanne Meyers by Goody Awards Founder Liz H Kelly at New Roads School in Santa Monica, California.
"We're excited to honor Jeanne Meyers with a Golden Goody Award for inspiring a positive media movement for over 20 years through The MY HERO Project. Jeanne's media leadership has not only impacted the Los Angeles community, but moved artists around the world to produce hopeful film, art and music," shared Goody Awards Founder Liz H Kelly.
Jeanne Meyers started "The MY HERO Project" in 1995 with Co-Founders Rita Stern Milch and Karen Pritzker. The group was created by "concerned parents to offset the lack of positive role models in the media with the goal to draw attention to uplifting stories."
The MY HERO Project is a U.S. based nonprofit organization that promotes the use of new media and technology to "celebrate the best of humanity and empowers young people to realize their own potential to effect positive change in the world". The organization has 165,000+ Facebook fans for the MY HERO page. The program provides free resources for sharing stories, art, audio, and short films that celebrate heroes who are working for peace, human rights, and the environment.
Prior to The MY HERO Project, Jeanne worked as a documentary filmmaker and traveled around the world for NBC News. She was formerly the Director of Brown University Media Services, and attended Brown University and the American Film Institute.
Award-winning filmmaker, composer and artist Kayla Briët will be hosting this 12th Annual My Hero International Film Festival and Multi-Media Awards Ceremony, and will present this special award with Goody Awards Founder Liz H Kelly on the red carpet. When hearing the news, 2016 Sundance Film Festival Ignite Fellow Kayla Briët commented, "Congratulations Jeanne Meyers on your Golden Goody Award. We need positive media more than ever now, and it's fantastic to see you honored by the Goody Awards for inspiring love."
About The MY HERO Project Event
The MY HERO Project 12th Annual International Film Festival and Multi-Media Awards Ceremony will be hosted this Saturday, November 19th at the Moss Theater at New Roads School in Santa Monica, California. Come support talented multi-generational filmmakers and media-makers as they showcase their award-winning content for the Los Angeles film-loving community.
http://myhero.com/IFF16
About the Goody Awards:
Goody Awards™ mission is to inspire positive change by recognizing and promoting the good in the world in four Eco Social areas: Environment, Education, Health and Women Empowerment. A Golden Goody Award is their top humanitarian award. This lifetime achievement award is usually presented at live events to raise awareness of social impact leaders and great causes. Previous Golden Goody Award winners have included Nobel Peace Prize Nominee Sir Nicholas Winton, Amma The Hugging Saint, UN Goodwill Ambassador Ian Somerhalder (Ian Somerhalder Foundation), Unlikely Heroes Founder Erica Greve (who travels globally to rehabilitate women) and more. The Goody Awards has an international Advisory Board, and fans tweet @GoodyAwards from 30+ countries to recognize good daily 24x7 using 20 different award categories with hashtags (ex. #HeroGoody). http://goodyawards.com