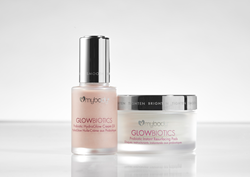 Phoenix, Arizona (PRWEB) November 12, 2015
Esteemed skincare brand, mybody, has always been on the forefront of creating topical probiotic solutions for women looking to remedy certain types of problematic skin conditions. After delivering a multitude of show-stopping products that address premature aging, hypersensitivity, acne-prone skin, etc., the company is excited to provide skin-savvy consumers with a dazzling duo in their GLOWBIOTICS collection: the GLOW DUO, consisting of the Probiotic Instant Resurfacing Pads and the Probiotic HydraGlow Cream Oil.
GLOWBIOTICS Probiotic Instant Resurfacing Pads, are a new fan favorite and have been flying off the shelves. These clinical strength pads instantly help reveal luminous, youthful-looking skin with fewer lines, wrinkles, pores and blemishes. With regular use, these pads can enhance the results of a clinical peel, but with virtually no downtime, irritation or excessive peeling.
GLOWBIOTICS Probiotic HydraGlow Cream Oil, is quickly becoming a part of every women's beauty and skincare routine. This hydrating cream-to-oil treatment quickly helps unveil a healthy, dewy glow to dull, aging skin thanks to the brand's exclusive Reflective Mineral Complex. Along with increasing the skin's lipid barrier protection, this powerful formula encourages the skin to utilize its own natural defense mechanisms to prevent free radical assault.
GLOWBIOTICS is mybody's highly-regarded product line designed to infuse skin with a powerful blend of nutrients, antioxidants and bioactive probiotics that give women of all skin types the chance to have a gorgeous glow through rebuilding and revitalizing their compromised skin. GLOWBIOTICS consists of two serious products created especially for women with imbalanced, lackluster skin that is prone to dryness, breakouts and irritation.
"Research has proven that one of the most effective anti-aging strategies is to support the skin in its ability to defend itself better from the environment," says Daniel Clary, Director of Education at mybody. "Our probiotic technology seen throughout the GLOWBIOTICS collection will strengthen the skin's immune system to defend itself better from UV rays, toxins and pathogens while stimulating collagen and elastin production."
About mybody
mybody is the integrative approach for women who seek the best for their skin and their health. This complete line looks to the power of the human body to inspire how products should repair and nurture, with the goal of revealing healthy, radiant skin. Keeping all women in mind, mybody also strives to develop healthy skincare solutions free of any known endocrine disruptors including parabens, phthalates, dyes, sulfates and gluten. mybody is proud to be a compassionate company that never tests their products on animals. Learn more at http://www.mybodyskincare.com.