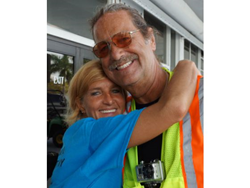 Walk To Your Mailbox Today...Walk Past Your Mailbox Tomorrow
Portland, OR (PRWEB) April 11, 2014
Four-time stroke survivor Mycle Brandy is setting off on a journey that will take him from Portland, OR, across the United States, to Portland, ME, a trek of 3780 miles. It's an attempt to raise awareness about stroke warning signs, and money for stroke research.
This is 63-year-old Mycle's fourth walk across the U.S. He has previously trekked from California to Washington, DC in 2010, from San Diego, CA to Seattle, WA in 2011, and from Maine to Miami in 2012.
This is Mycle's longest walk attempted to date; he hopes to raise $1 million dollars in donations along the way. He will walk through Oregon, Idaho, Montana, Wyoming, Nebraska, Iowa, Minnesota, Wisconsin, Illinois, Indiana, Ohio, Pennsylvania, New York, Vermont, New Hampshire & Maine.
Mycle's cross-country hikes serve two purposes. First, he hopes to inspire stroke survivors to get moving. Mycle knows firsthand how difficult stroke recovery can be. In moments of pain and frustration, it's tempting to give up. But recovery is possible, if you continue to push yourself.
"I want stroke survivors to get off the couch," says Mycle. "Walk to your mailbox today and walk past your mailbox tomorrow."
The second reason Mycle walks is to raise money to help fund stroke research and medical advances. Donations he receives during his journey will go to the American Stroke Association & American Heart Association.
Along his route, Mycle will visit 20 hospitals and spend time with stroke survivors and the doctors who treat them. He hopes to provide inspiration and encouragement to both groups.
Mycle will set off from Providence Portland Medical Center in Portland, OR on Tuesday, April 15, 2014. His walk will take 8 months to complete, and he plans to arrive at Maine Medical Center in downtown Portland, ME on December 13, 2014.
Track Mycle's journey by GPS here. (http://walkingacrossamerica.org/mycle-gps/)
Anyone wishing to support Mycle by donating to the Portland to Portland walk, can visit this site for more information. (http://walkingacrossamerica.org/lend-a-hand/)
EDITOR'S NOTE:
Mycle and his team will be arriving in Portland, OR on Sunday, April 13, 2014. On Monday, April 14, at 6:00pm, there will be a send-off party at the Subway restaurant at 1505 NE 40th Avenue. On Tuesday, April 15, Mycle will arrive at Providence Portland Medical Center at 4805 NE Glisan St. at 11:00am. To arrange an interview, please contact: Don Goodman, 951-970-2028 or Louise Brandy 949-521-1357
Mycle Brandy is the founder of Walking 2 End Stroke Inc., a 501(c)3 organization that raises awareness about the dangers of a sedentary lifestyle and gives hope to those who have experienced a stroke or brain injury. So far Mycle's message has reached a potential 200 million Americans including the President and First Lady who congratulated him on his charitable endeavors. Learn more about ways that Mycle is inspiring others at http://walkingacrossamerica.org.