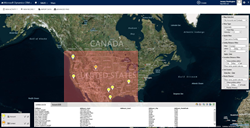 "This solution has been designed to incorporate a whole range of standard Microsoft® CRM product functionality, making eMap a seamless integration and giving a native user experience when working with the software."
Isle of Wight, UK (PRWEB UK) 22 July 2014
MyCRM, the Isle of Wight-based solution provider and software development company, has today announced the next GA (General Availability) release of eMap using Microsoft® Bing Maps for Microsoft® Dynamics CRM. Effective immediately, the latest solution can be downloaded as a trial from the MyCRM Download Centre:
http://downloads.mycrmgroup.com/eMap2013.aspx.
Existing eMap customers receive the update as part of their monthly subscription.
Included for the first time in eMap is access to a global business database, with over 60 million unique company records with address and location information.
This connection gives end-users the ability to search for business records of all types in a given location - without owning the data. This enables those companies to build relationships with prospects and customers by location.
Businesses found using the search facility can then be converted into prospect or lead records directly within their own CRM system.
"eMap 1.2 is the first release with the integrated data service, and completes a milestone that has been in the plan for some time" stated Sales and Marketing Director, Alistair Dickinson
Mr Dickinson went on to say: "We have been designing, developing and working on the eMap product for the past two years, and have been releasing major updates every four months. This release contains some amazing new features that extend the usability of Microsoft® Dynamics CRM and empower end-users in any size of business in almost any sector.
"Furthermore, there are many scenarios that can be considered where our solution adds a great deal of value. eMap fits well into Sales, Marketing and Customer Service departments when combined with Microsoft® Dynamics CRM."
A spokesperson for the MyCRM product team said: "The development of eMap has been a great opportunity for MyCRM to work with our customers, incorporating their feedback through an iterative release schedule.
"This solution has been designed to incorporate a whole range of standard Microsoft® CRM product functionality, making eMap a seamless integration and giving a native user experience when working with the software."
About Microsoft® Bing Maps in Business
Microsoft® Bing Maps is a flexible platform with tools designed for rapid application development and provides seamless integration with other Microsoft® technology
The team at MyCRM have taken these tools and built a compelling and tight integration with Microsoft® Dynamics CRM.
About MyCRM
MyCRM offer a range of business services to small and medium sized organisations around the globe, through product additions and help and advice around the implementation of Microsoft® Dynamics CRM.
Contact
For Company or Product information please contact
Alistair Dickinson (Sales and Marketing Director)
alistair(at)mycrmgroup(dot)com
+44(0) 1983 249500
Trial Software
MyCRM can provide a fully featured eMap trial including business data integration for a limited period of 14 days. Please register here http://downloads.mycrmgroup.com/eMap2013.aspx