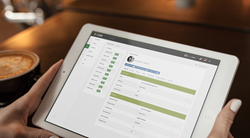 Oklahoma City, OK (PRWEB) January 04, 2015
Core Employee Solutions launched its prototype and began closed beta testing with customers. "I'm very excited about seeing how are customers use the software, and where we can improve," said Christian Brim, CEO. "This will be the only SaaS platform that allows small business owners to access and manage all of their employee related services in one place. Whether they use our services or third party SaaS providers, small business owners will be able to save time and money."
With internet security a rising security, veteran Chief Technology Officer, Stephen Cassar assures business owners, "Core uses a multi-tiered security architecture with military-grade encryption, 256-bit one-way hash protection of all sensitive data, and threat aware infrastructure design to protect client data from intrusion."
Users will be able to access and utilize a free version of the platform when it is released in 2015. They will also be able to access premiums features through a paid option. The offering is targeted to small business owner operators with 5-35 employees who already use Saas for at least one employee related service (e.g. payroll). Interested small business owners can sign up for preferred pricing and notification when the software is released at their website http://www.myemployeesolution.com