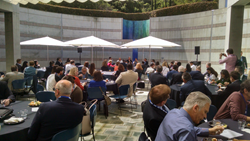 Even in the early stages, entrepreneurs and business owners must consider how to maximize the value of their business upon a sale or transfer.
Los Angeles, California (PRWEB) May 31, 2017
Richard Myerson, CPA, CLU, ChFC, delivers a presentation to local growing businesses at Supporting Strategies' annual Business Fundamentals Bootcamp - Los Angeles. This year's theme is "Fundamentals of Growth," under which Myerson speaks about the importance of planning a business' exit strategy, as well as tactical skills and pointers.
Held at the Skirball Cultural Center in Los Angeles, the Business Fundamentals Bootcamp amasses the most knowledgeable and reputable local business leaders to present on topics based on their expertise. The Bootcamp caters to the needs of the C-suite of thriving businesses, targeting tactical and operational management skill building. Sessions cover various functional groups, including marketing, finance, law, and human resources.
Myerson's presentation includes case studies and a review of typical growing pains in today's business environment, including the necessity to develop an exit strategy or succession plan—even though it may seem premature. "Even in the early stages, entrepreneurs and business owners must consider how to maximize the value of their business upon a sale or transfer," proclaims Myerson. "Continually revisiting the end-game sharpens the day-to-day operational effectiveness of the business owner. I very much appreciate the opportunity to present this crucial information to those who need it most." Myerson discusses various succession options, from sale to a partner, to key management, to a family member. He concludes by citing a series of business plan implementation steps and analyses.
The Myerson Agency works directly with the owners of closely held businesses to develop the ideal plan to maximize the value of the business to the owner and family members.
About The Myerson Agency
Founded in 1994 and based in Los Angeles, CA, The Myerson Agency offers wealth, legacy, and insurance solutions. The Myerson Agency engineers specially designed life insurance products, primarily aimed at tax reduction, wealth preservation and wealth accumulation objectives for ultra-affluent, high income, closely held business owner, and wealthy international citizen clients. To learn more, visit myersonagency.com. Life Insurance—Intelligently Engineered. ®
Follow us on LinkedIn
Follow us on Twitter
About Supporting Strategies
Make sure you're outsourcing your bookkeeping services to a firm you can trust. At Supporting Strategies | Los Angeles, our team includes talented accounting professionals with years of experience in the field. They take the time to get to know your business and are committed to applying their expertise to help you grow and succeed. As a small business owner, every dollar counts. So we'll work with you to set a budget for our services, with a focus on maximizing efficiencies and cost predictability. We can scale up or down based on your changing demands, charge no minimums for our services and bill only for the actual time spent addressing your needs.