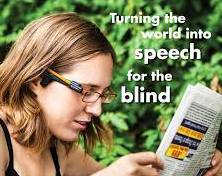 MyEye and MyReader gives the blind and visually impaired the ability to read anything, anywhere, anytime, restoring their independence. Lisa Kretschmer
Fort Lauderdlae, FL (PRWEB) July 06, 2016
Florida Vision Technology is proud to announce a partnership with OrCam, the makers of MyEye and MyReader assistive technology devices for the blind and visually impaired. These new devices allow the wearer to experience the world around them in a brand new, interactive way.
MyEye is an eye-glass mounted camera that reads text, identifies objects, and (previously stored) faces just by pointing. It's small enough to fit into a pocket, clips on to a pair of eyeglasses, and speaks to the wearer through a discrete ear piece. The wearer can then read newspapers, books, signs, labels on consumer products, identify currency, and even read text on a computer or smartphone screen anytime and anywhere they wish. MyEye comes equipped with facial recognition capabilities, allowing the wearer to identify friends and family who enter into the camera view. It can also read red or green signals at pedestrian crossings to assist them when out and about. OrCam's MyReader device has all of the portable reading functionality of the MyEye device, but without the extras.
Lesa Kretschmer, Founder & CEO of Florida Vision Technology commented, "We're excited to partner with Orcam and add the MyEye and MyReader devices to our family of assistive technology products because we know it will add value and enhance the quality of life of anyone who tries it." OrCam is an Israeli start-up company, founded in 2010, with a clear mission to "harness the power of artificial vision to assist people who are visually impaired". OrCam definitely fulfills that mission with the introduction of the new devices. While MyEye can't restore a wearer's vision, it can help restore lost functionality and independence which makes a world of difference.
About Florida Vision Technology
Florida Vision Technology is a minority certified small business based out of Fort Lauderdale. Lesa Kretschmer, founder and CEO, has worked in the blindness and low vision industry for more than 22 years. She is committed to placing the best adaptive technology and products available today within reach of blind and visually challenged people of all ages and walks of life. Lisa has been showcasing these new OrCam products within the state including at the Division of Blind Services 75th Anniversary Celebration in Daytona Beach and at the Florida Council of the Blind State Convention in Jacksonville with an enthusiastic response. Lisa has also introduced the devices at several South Florida events including the Elder Services Referral Network Senior & Boomer Expo, the Lighthouse of the Palm Beaches Boot Up Club, the American Council of the Blind Miami Beach & Ft. Lauderdale Chapters, the National Federation of the Blind Miami Chapter, and the Blinded Veterans Association Broward Chapter. To connect with Lesa Kretschmer and Florida Vision Technology, or to learn more about OrCam MyEye or MyReader, call 1-800-981-5119 or visit http://www.floridareading.com.