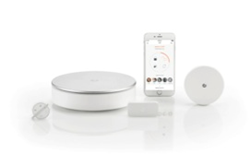 "The role of design is not just to make our products attractive: it's to ensure users understand what they do, and find them easy and pleasant to use," said Jean-Marc Prunet.
San Francisco (PRWEB) April 02, 2015
Myfox, the European leader in smart home security solutions, has won a Red Dot Award: Product Design 2015 for Myfox Home Alarm, part of an innovative range of security products. Myfox Home Alarm and Myfox Security Camera are designed to work together as a simple and visually attractive solution to prevent home break-ins and help people watch out for their family's safety.
Myfox Alarm was chosen from around 5,000 entries to the Red Dot Awards, the largest and most widely recognized design competition in the world. The competition, which this year celebrated its 60th anniversary, is judged by a panel of international designers, professors and journalists from 25 countries. In 2015, 2,000 companies from 56 countries entered the awards, with only a handful scooping the prestigious Red Dot mark of quality.
The award recognizes the hundreds of hours of research and development by the teams at Myfox and product design studio QuaglioSimonelli.
"We wanted to break free of traditional design conventions for security systems, with a product that is simple, intuitive and efficient, and which uses technology to improve people's daily lives," explains Jean-Marc Prunet, CEO of Myfox.
"We started out with a blank canvas, looking at every aspect of the design to come up with a way to ensure Myfox Home Alarm and Myfox Security Camera blend into the background of a family home. The resulting products are like guardian angels – watching over people, without intruding in their lives. And thanks to our unique technology, they are able to prevent home break-ins before they happen."
Myfox selected the design studio led by Manuella Simonelli and Andrea Quaglio for its experience in both consumer and home electronics. The brief: to bring the technology and the brand to life, via an efficient, sleek and highly technical design. The design studio worked side-by-side with Myfox's R&D teams from the beginning of the project to ensure that the products integrate harmoniously into a home environment.
"Since our beginnings with brands like Thomson and Alessi, we have been creating aesthetic products that take into account technical constraints, while prioritizing the user and how the device is integrated into the home," explains Manuela Simonelli. "The traditional home alarm system is one of those products that provides a real service, but which often doesn't have the place it deserves in a home because of a lack of attention to design."
The result of the team's work is a range of products in which every detail is designed to promote ease of use, by making the product simple to understand. This is particularly important in a context where smart home technology is becoming increasingly widespread, with a proliferation of connected services for use in the home and by individuals. In this space, impeccable design is imperative as a way to help users realize they no longer need to hide their security equipment.
"The role of design is not just to make our products attractive: it's to ensure users understand what they do, and find them easy and pleasant to use," said Jean-Marc Prunet.
This in-depth work by the Myfox and QuaglioSimonelli teams resulted in a product range that belongs in the world of interior design. The system showcases a "pure, timeless and reassuring" curved design that evokes perfect regularity and is also a nod to the company's logo.
"We worked to create pure geometric forms and clean lines to structure the products, and used a very modern mix of materials, including ceramic white plastic and brushed aluminum," said Andrea Quaglio. By working together, the teams were able to "integrate the technology intelligently and discretely, with every detail thought out carefully to maintain the sense of perfect form," said Andrea. The result is a range that combines intuitive ergonomics with ease of use and a modern and minimalist design.
Myfox and QuaglioSimonelli worked together on every detail of the user experience, from devices used with the camera and the alarm (the Key Fob, Link, and IntelliTag™) to the smartphone app. Enabling owners to manage their devices, it runs on IOS, Windows and Android and features user recognition.
The partnership has clearly paid dividends, as Myfox Home Alarm has already won three prestigious awards: a CES Innovation Award 2015, an iF Design Award 2015 and a Red Dot Award: Product Design 2015.
About Myfox
Since 2005, Myfox has been committed to redefining home security with simple, unique solutions. Unlike traditional detection systems, Myfox offers true security and peace of mind through proactive deterrence and its award-winning IntelliTAGTM sensors are today protecting over 100,000 windows and doors. Pioneer in the security space with the first connected home security system in 2009, Myfox has been named this year by Deloitte Fast 500 as the fastest growing hardware company in Europe. It is also a 2015 International CES Innovation Awards Honoree, and the recipient of an iF Design Award 2015.