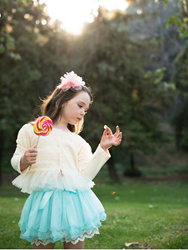 Los Angeles, CA (PRWEB) July 29, 2014
MyGirlDress.com a special occasion dress retailer is excited to announce the brand's new Dressy Causal line launch. This new line is for toddlers and kids ranging from sizes two to six. All the clothes in the new line are made of high quality 100% cotton and linen, so they are not only stylish, but comfortable. This line has great new products from cute dresses, cotton cardigans, super cute shorts, beautiful tops to the prefect princess mesh headbands. The company believes that the line is everything shoppers are looking for in an affordable yet trendy clothing line.
My Girl Dress has made this season's hottest trend available in a variety of great inspired looks and styles. The Dressy Casual Line, began July 5th 2014 and ranges in price from $13.00 to $45.99. My Girl Dress has always prided themselves on their unequivocal ability to provide designer-inspired pieces at a fraction of the price and the company also offers daily deals as well as flash sales.
"There are many companies for kid's casual or formal clothes," says Sam, designer / CEO of MyGirlDress.com. "But I found it was hard to find the girl's clothes that can be worn on the special occasion and family dinner or friend's casual party. I wanted to provide clothes that still look absolutely adorable and dressy yet comfortable and not too much dress up. It took me more than three years to prepare for this line. I really hope all the mothers of little girls will enjoy our new line."
About MyGirlDress.com
Located in Los Angeles, CA, MyGirlDress.com provides special occasion dresses for women and girls, such as flower girl dresses, junior bridesmaid dresses, bridesmaid dresses, prom dresses, Easter dresses, first communion dresses, graduation dresses, christening dresses, pageant dresses, Christmas dresses, birthday dresses, and others. 95% of the dresses are made in the US with the finest quality. The items are provided to more than 3,000 bridal shops throughout the country including fancy boutiques in Beverly Hills, Robertson Blvd, and New York. We have over 1000 different styles to choose from and most of them are in stock.