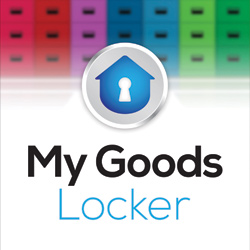 My Goods Locker would be an ideal solution for both consumers and the insurance industry.
(PRWEB UK) 18 March 2014
Market research [ABI] suggests that around 60% of UK households are underinsured; My Goods Locker will store not only the records of your home and its contents but also their purchase price. My Goods Locker enables all home owners to instantly compare the total value of their items and contents to their 'Insured' value helping them avoid being in that 60%.
My Goods Locker uses a simple on-screen "drag & drop or click on" method of loading photographs of items and rooms via a subscriber's tablet, PC or Mac to create a detailed virtual record of their home and possessions for use in insurance valuations and claims. Secure 256bit encrypted servers store the details of all recorded items, contents, photos and documents by property and room, for up to 3 properties.
A subscriber simply chooses a property type from the provided list, adds the room type(s) and adds in their items room by room. There is a comprehensive and self-expanding database of rooms, items and products that will enable a 3 bedroom property to be completely set up in less than 30 minutes. Once set up, a subscriber can easily maintain their records as their possessions change. To aid valuation and identification each item can be tagged with specific information, photos and documents such as receipts and guarantees.
My Goods Locker provides reports by entire property, room and individual or groups of items. These can be provided for insurers, along with stored photos and documents, to identify and speed up insurance claims should they ever need to be made.
Additional Features:

A Strong Room for copies of important personal information, which may not be an actual item, such as Birth Certificates, Medical Cards etc.
An SOS area where details of all Emergency Cover providers and their agreement details can be stored, with a unique "Text / Email Details to any chosen mobile number or email address" feature
Using the "Lost and Stolen" feature a subscriber can report to the authorities (via Patriot, the UK Police Database) if a possession is lost or stolen. The subscriber will be alerted should another "mygoodslocker" subscriber try to register it. Subscribers can also check to see if an item has been given a status of Lost or Stolen by another "mygoodslocker" subscriber
A subscriber can allocate any of their recorded items to a beneficiary named within their profile area
My Goods Locker can notify and track manufacturer recalls for a subscriber's possessions
PRESS RELEASE QUOTES
John Mason Group MD "With today's climate, social adversities and the ever increasing need by insurers for fast, accurate and efficient claims handling, it became apparent that our original feature rich concept for My Goods Locker would be an ideal solution for both consumers and the insurance industry. It can transform the relationship at the "moment of truth", when a consumer instigates a claim on their household contents insurance"
PRESS RELEASE FINAL POINTS
Drop box containing:
My Goods Locker Logo
My Goods Locker Homepage Graphic
Link: https://www.dropbox.com/sh/k94fx8hcyoz6pta/68w9GlT-Qf
Strap lines:
If your home had a burglary, fire or flood could you list what was lost or damaged?
STORE TODAY – SAVE TOMORROW.
Launch Offer:
The set annual subscription fee is £19.99 (inc Vat). Until the end of March 2014, sign up is FREE for the 1st year.
Website: www(dot)mygoodslocker(dot)com
NOTES TO EDITOR
My Goods Locker www(dot)mygoodslocker(dot)com
Launched on March 6th 2014
Interviews available via Kate and or Richard (see details below)
Launch special offer – free for March 2014 save £19.99
Follow on Facebook and Twitter
Brief on i247 Group
i247 Group is the title given to the Companies that provide services to customers and each other, under a generic name for marketing and promotion purposes. These include contact centre, support, administration, authorisation, billing services, software production and maintenance support, customer satisfaction surveys and NPS services.
www(dot)i247group(dot)com
i247 Group Stakeholders Statement
"i247 Group is our passion. We own the group and our commitment is complete and consuming. We listen to our customers. We address their needs and priorities. We deliver the products and services they need. We succeed – and our success is the symbol of our passion".
PRESS RELEASE CONTACTS
Contacts:
Kate Mason – 0844 477 0421 – Kate.Mason(at)mygoodslocker(dot)com
Richard Parry – 07957 286218 – Richard.Parry(at)mygoodslocker(dot)com