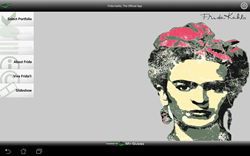 "Fridamania is now available with the touch of a finger."
Miami, FL (PRWEB) August 10, 2015
My Guides, Inc. is proud to collaborate with the Frida Kahlo Corporation® to develop Frida Kahlo - The Official App. Available today, the app Frida Kahlo - The Official App offers a portfolio of Mexican artist Kahlo's photographs ranging from her early twenties, depicting photos of unique expressions and poses, along with rare photographs of family, friends, and Diego Rivera. It allows novices and experts to glimpse into the private life of Frida Kahlo as the individual. Descriptive content is available on the biography of Kahlo to help users learn more about this controversial artist.
As an educational tool, the official app is easy to navigate and fun to use. It is inclusive of all the features of the lite app, such as the 5 personal photographs of Frida Kahlo, the ability to share any of the works to social media, a full biography, and zoom capabilities, along with a new material design. Future in-app purchases will also include the following features: customized, art-related Frida backgrounds (to make a Frida-themed device), ability to set the photos as wallpaper on your phone/tablet, social-media sharing, zooming capabilities, and trivia questions. Each new feature will allow a user to enjoy timeless photos of Frida, while displaying unique Frida backgrounds on your smartphone. Frida Kahlo Corporation states, "Fridamania is now available with the touch of a finger." In addition, the "Viva Frida®" section will include background information into the Frida Foundation and promotional items exclusive to the Frida Kahlo Corporation and brand; as a disclaimer, alcohol products can only be purchased by people 21-years of age and older.
Frida Kahlo - The Official App is now available worldwide on the Android and iPhone marketplace, along with the Spanish translation.
Developer My Guides, Inc. has served the Florida region since 2011 in assisting museums and tour-based businesses with implementation of Smartphone-based tour apps and technologies. With the growing number of Frida Kahlo fans and followers worldwide, My Guides, Inc. and the Frida Kahlo Corporation®, along with the support of the Kahlo family, is dedicated to educating, sharing, and preserving Frida Kahlo's art, image, and legacy.
If you would like further information on Frida Kahlo, the Official App, please contact:
Elora Sanchoo, Market Development, My Guides, Inc.
Phone: 877.948.4339
Email: elora(at)my-guides(dot)com
Twitter: @myguidesinc
To download the app:
https://play.google.com/store/apps/details?id=com.MyGuides.android.MyGuides.FridaKahloOfficial
https://itunes.apple.com/us/app/frida-kahlo-the-official-app/id945498855?mt=8
((c) 2015. Frida Kahlo Corporation.  All Rights Reserved.)