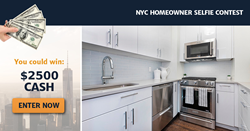 Take a selfie in your NYC apartment, tell us why you're motivate to renovate and you could win $2500.
New York, NY (PRWEB) January 11, 2017
MyHome, one of NYC's leading remodeling companies, recently announced a selfie contest that will award one Manhattan homeowner with $2500 cash. Beginning January 1st, homeowners can enter the contest by taking a selfie in their NYC apartment and sharing why their space is in need of a renovation using #MyHomeSelfie. Entries will be accepted through March 1st and the winner will be announced on or around March 3, 2017.
"There's a sense of belonging that comes from adding your style in your apartment. MyHome wants to celebrate your style and support you in making your home your own," explains Managing Partner, Yoel Piotraut.
The photo should show off the space the homeowner most wants to renovate and explain why they are motivated to make a change. Whether it's outdated style, mismatched appliances, or cramped living quarters, MyHome wants to see it all. To qualify for the selfie part of the contest, homeowners should include themselves in the photo.
The public can vote on the photo they believe should win. The contest jury will take into account the motivation of the homeowner, the space in the photo, and the votes when choosing a winner.
To enter the contest, simply share the photo with MyHome in one of these ways:
1. Submit your photo using the official contest entry form.
2. Twitter - Tweet your photo with #MyHomeSelfie from your account publicly tagging @my_homeus.
3. Facebook - Post your picture on MyHome's Facebook page with the hashtag #MyHomeSelfie.
4. Instagram - Post a public Instagram photo with the hashtag #MyHomeSelfie and mention @myhomeus in the caption.
Official rules and entry form are posted at http://www.myhomeus.com/selfie-contest.
MyHome was founded in 2001 by managing partner Yoel Piotraut. The company, which is based in New York City, has a team of consultants, designers and managers. MyHome's Manhattan kitchen and bath showroom is located at 353 West 48th Street in Manhattan.