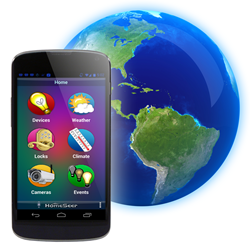 Bedford, NH (PRWEB) April 21, 2014
HomeSeer pioneered remote home control back in 1999. The company's new cloud-based "myHomeSeer" service greatly simplifies remote access for users of their popular "HomeTroller" line of home controllers. The free standard service will support a single HomeSeer system (perfect for most users) and a paid premium service is available for users with up to 5 systems. An OEM version of the service is also available for HomeSeer partners.
Unlike other services of this type, myHomeSeer is designed to adjust performance by seamlessly changing connection type based on user location. When at home, the service automatically provides a direct system connection for the highest level of performance. When away, the service shifts to a secure cloud-based connection for reliable access anywhere in the world.
Current HomeSeer users with HS3-based systems can trial myHomeSeer service by registering at http://myhs.homeseer.com/. The service is slated to go live on May 1st.
HomeSeer automation systems are designed to work seamlessly with industry standards and products from leading Z-Wave manufactures such as Cooper, Schlage, Kwikset, Baldwin, Yale, GE, Honeywell, Leviton, Linear, Everspring, Evolve, Fibaro, FortrezZ, Aeon Labs, RCS, and many more.
HomeSeer Technologies, LLC is a leading provider of home control systems based in Bedford New Hampshire. Its software and hardware controllers give users the ability to integrate and automate everything in their homes, including lights, appliances, thermostats, door locks, security systems, audio/video, and media content. HomeSeer systems are IP enabled, allowing users remote access from anywhere in the world.
For more information, visit http://www.homeseer.com or contact the company directly at 603-471-2816. OEM inquiries are welcome.