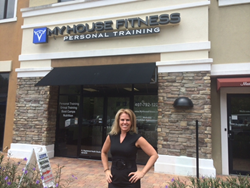 I feel so blessed and fortunate to have the opportunity to help, inspire and motivate people to be the best they can be.
Orlando, Florida (PRWEB) August 14, 2014
The first time you walk into a My House Fitness training center, you may wonder where all the people are? "That is what we usually hear when someone visits our centers for the initial consultation," said Chris Wherrell, Vice President of My House Fitness. "But that is what makes us so different from the larger fitness center operations, this is one-on-one personal training, with no distractions, and that even includes other members or personal training instructors."
And that difference is one of the primary reasons why Robin Hillerman decided to open a franchise unit. "I am so excited to be part of the My House Fitness family. I love working with people. I feel so blessed and fortunate to have the opportunity to help, inspire and motivate people to be the best they can be. The fact that we have the opportunity to really make a difference in our clients lives is really exciting," said Robin.
Robin's franchise operation is located at 400 South Orlando Avenue in Maitland, Florida and offers personalized one-on-one fitness programs, group training, couples training, nutritional counseling, weight loss programs, golf fitness programs, virtual training and happy hour boot camps.
"Robin has a very well-rounded background in the fitness industry, but she is even stronger with people. Helping clients reach their personal fitness goals requires that the instructor develops a relationship with the client that is built on trust, and Robin is that person," added Jen Wherrell, President of the My House Fitness brand.
The My House Fitness clients are provided with a unique personal training experience. The private training studio caters to each clients individual goals and the facility is state-of-the art. The philosophy is simple—make clients happy by transforming their bodies and mind.
For more information on My House Fitness training programs, visit the Locations Page on our Website for a location close to you.
ABOUT MY HOUSE FITNESS
Orlando based My House Fitness, provides clients with personal unique training experience. They are dedicated to helping each client achieve his or her health and fitness goals. My House Fitness owns two corporate locations and has one franchise location. For additional information on franchising opportunities, download our franchise kit now.