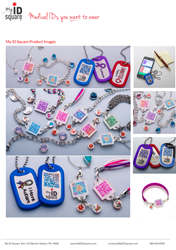 My ID Square is happy to support the Children's Hospital of Philadelphia with a donation from a portion of sales of our smart, life-saving IDs.
Merion Station, PA 19066 (PRWEB) June 03, 2015
MY ID SQUARE, developer of an innovative line of smart and stylish medical IDs, announces an exciting way they are raising money for The Children's Hospital of Philadelphia (CHOP). A portion of sales from My ID Square products will be donated to CHOP.
My ID Square makes customizable bracelets and dog tags, called Squids (for Square ID), which use colorful QR bar codes to connect to powerful, patient-maintained physician-designed online medical profiles. The customizable profiles include medication lists, allergy information, and other potentially life-saving data.
"The goal of My ID Square's line of products is to precipitate a revolution in medical care by putting the power of information in the hands of patients—through jewelry that is stylish, lightweight and fun," said Irene Glickman, President of My ID Square.
Founded in 2013 by a husband-wife team—one physician and one software engineer—My ID Square is based in the Philadelphia area and makes colorful and interchangeable IDs that alert emergency contacts by text and email and also link to a user-maintained medical profile, which can be accessed by any internet-enabled device during a routine visit to a doctor and in an emergency. My ID Square's complete line of products were featured in Diabetes Self- Management Magazine under "New Products for 2015." For more information about My ID Square, contact Irene at contact(at)MyIDSquare(dot)com or 484.429.6990.
About The Children's Hospital of Philadelphia
The Children's Hospital of Philadelphia, America's first hospital dedicated exclusively to the care of children, is a world leader in patient care, cutting-edge research, advocacy for children and education for pediatric healthcare professionals. The Hospital houses renowned programs in fetal diagnosis and treatment, oncology, cardiac care, orthopaedics and neonatology, among many others. It receives referrals from all 50 states and around the globe.
About My ID Square
My ID Square makes Smart, stylish and interchangeable medical identification jewelry that alert contacts in an emergency and connect to a powerful physician-designed medical profile. My ID Square's line of wearable technology IDs are the brainchild of husband/wife team, Joel and Irene. Joel, a kidney specialist, was looking for a better way to access patient records since patients too often do not remember important information about their medical history. Irene, a software engineer, wanted to find a way to use technology to help Joel and his patients. Irene's solution was a product that is more powerful and better looking than anything on the market and encourages patients to better self-manage their care. With My ID Square, emergency responders get the vitally important needed most, available 24×7. For more information, visit http://www.MyIDSquare.com