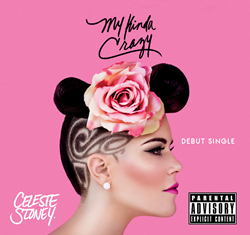 CNN raves, 'a female that brings true music back... her soulful but edgy music brings people to their feet.'
SHERMAN OAKS, CA (PRWEB) October 26, 2014
Powerhouse soul vocalist, award winning songwriter and record label CEO Celeste Stoney officially released her highly anticipated debut single, "My Kinda Crazy" to all major digital and streaming outlets on October 21st. Selling out the Los Angeles House of Blues twice and appearing at the Sunset Strip Music Festival, she ignites every stage she plays and engages new audiences with her 8 piece band and roof shattering vocals.
Celeste has the music industry buzzing, and on Monday, October 27th, Celeste celebrated the release of "My Kinda Crazy" by debuting her music video and performing a showcase for over 200 music industry executives, A&R scouts and members of the press at Sadie Kitchen & Lounge in Hollywood. Sponsored by global creative network World Arts Media, the social media exposure from the event alone reached 500K+ people through Instagram, Facebook and Twitter. Renowned LA artists did pop art paintings of the single that were auctioned off, with a portion of the proceeds going to START Rescue, an LA based, non-profit that saves thousands of animals in SoCal's high kill shelters. Other notable sponsors included Mr. Pink's Ginseng Drink, Just Pure Foods, Los Angeles Film School, Peermusic, Health-Ade, Next2Shine and Essential Living Foods.
After earning a platinum record as a teenager with Ja Rule, she's since appeared on tracks with Nas and Raekwon. Celeste took time away from the spotlight to cultivate herself as a songwriter, and signed to global independent music publisher, Peermusic in 2013, penning songs for other successful artists, TV and film. As industry executives were impressed by her demos and impeccable talent, her passion for artistry was rekindled. Celeste founded the label, Level Music Entertainment, in June of 2014.
Inspired by classic icons like Michael Jackson and Madonna, she's described by CNN as "a female that brings true music back... her soulful but edgy music brings people to their feet." Next2Shine, the highly influential taste making blog that has discovered past talent like Sam Smith, Mindless Behavior and Karmin, describe her "powerfully articulate vocals [and] on-stage heart-on-the-sleeve passion [as] what marks her out as one to watch." Celeste strives for and loves "that organic sound, that real music, that feel good music." The throwback feel of her debut single, combined with modern shimmering pop hooks, is not only current and relevant to 2014's pop music trends, but also the perfect embodiment of her style and sound.
Her refreshingly positive image strikes a chord with critics and fans alike. "I want to keep it classy. I want to change the status of what makes a woman sexy. I want to be a role model for young girls to look up to."
Celeste Stoney's "My Kinda Crazy" single is available for purchase through iTunes and Amazon. The single is also available for streaming through Spotify, Rhapsody and all other major outlets. The music video for the single will be available on VIMEO and Youtube. She has a substantial following on Instagram (@CelesteStoney) Facebook (http://www.facebook.com/celestestoney) and Twitter (@CelesteStoney). Her website, http://www.CelesteStoney.com, features her biography, song snippets, EPK, concert dates, merchandise and more.
Press Contact: 877-310-7358
LEVEL MUSIC ENTERTAINMENT
14444 Magnolia Blvd Suite 205
Sherman Oaks, CA 91204
ABOUT US:
LEVEL MUSIC ENTERTAINMENT, an independent record label, was officially founded and incorporated in California in June 2014 by Celeste Stoney. The label consists of a dedicated team of over a dozen people handling advertising, booking, PR, social media, event sponsorship, and sales. http://www.LevelMusicEnt.com