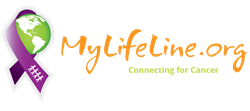 Denver, CO (PRWEB) October 14, 2014
MyLifeLine.org Cancer Foundation has been connecting cancer patients with their family and friends for over seven years and this month, in honor of breast cancer awareness and all people affected by cancer, they are connecting patients with businesses that can fulfill their greatest needs.
Throughout the month of October cancer patients will be receiving donated services in honor of their brave fight against cancer and to help with the overwhelming stress that comes with a cancer diagnosis. All patients are members of MyLifeLine.org, a Denver based nonprofit. They use the organization's free websites to connect with their support community. Research has shown that the type of social and emotional support MyLifeLine.org members receive can be as important as medical treatment during a cancer diagnosis.
MyLifeLine.org founder and Chief Mission Officer, Marcia Donziger is inspired by the generosity of the companies and knows first-hand the power of connecting. Marcia says, "A cancer diagnosis affects patients beyond physical and medical challenges. MyLifeLine.org believes it is important to support cancer patients and their caregivers emotionally and practically. We greatly appreciate the generosity of the businesses participating in Connecting for Cancer."
Patient Stories:
Harmony Salon, located in the Denver Highlands, was matched with Roberta Aberle for a new hair style. Multiple chemo treatments over the past two years for a rare form of cancer known as Primary Peritoneal Carcinosis, has left her hair in need of a makeover. Harmony Salon's owner, Nickie McKean has been a hair stylist for over 25 years and has extensive experience working with cancer patients both before and after treatment.
Kelley Gleason, a six year survivor of stage 4 Pancreatic Islet Cell Tumor, has chronicled her journey since 2008 on her MyLifeLine.org site with the purpose of keeping her friends and family updated, as well as creating a keepsake for her son. Kelley is connected to Shortline Auto Group for a new set of tires and an oil change. With multiple trips to treatments every month, the Gleason's family car was in desperate need of an upgrade and with the generosity of Shortline Auto Group, she'll be getting the improvements she truly needs.
Kris Pogue's cancer story began in 2012 when she was diagnosed with stage 3C ovarian cancer. Still in active treatment, Kris has been receiving chemo for the past two years and is using MyLifeLine.org to build a community of support and to keep her family and friends updated on her health. Kris was matched with CliIntel, a data analytics and engineering firm who will be providing Kris with professional family photos and meals delivered to her home.
When Crestone Capital Advisors heard about Tricia McEuen's story, they wanted to help. Diagnosed with Stage 2B Breast cancer at the age of 48, Tricia endured a bilateral mastectomy, reconstruction and months of aggressive chemotherapy and radiation. She recently celebrated her five year survivor anniversary, a major milestone for cancer survivors, and is working to find her new normal as a survivor. Crestone Capital Advisors, a global investing firm that focuses its expertise on high net worth individuals and families, is donating financial advising services to Tricia and her family to help manage the costs of cancer after her treatments.
About MyLifeLine.org:
MyLifeLine.org Cancer Foundation is a 501C (3) nonprofit based in Denver, CO that provides free websites to people affected by cancer so they can easily connect with family and friends. Research shows that increased social and emotional support can improve cancer outcomes and MyLifeLine.org is instrumental in providing and organizing strong support communities. With over 120,000 patients, caregivers, family and friends in all 50 states and across 183 countries, MyLifeLine.org is the key to solving the communication issues that arise when someone is diagnosed with cancer.
Media Opportunities:
Media is welcome to attend any of the service donations. Professional photographs of the donations available upon request. To learn more about the Connecting for Cancer project, read the patient's stories or for information on media opportunities, please visit https://www.mylifeline.org/connecting-for-cancer.
Participating Businesses' Locations:
Harmony Salon: 3714 W 32nd Ave, Denver, CO 80211
Shortline Auto Group: 580 S Havana St Aurora, CO 80012
CliIntel: 7979 E. Tufts Avenue, Suite 1100 Denver, CO 80237
Crestone Capitol Advisors: 1050 Walnut St #402, Boulder, CO 80302