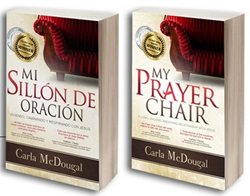 Loving others more than our own selves replaces selfishness with selflessness.
(PRWEB) September 05, 2014
Carla McDougal, author and speaker as well as the founder of Reflective Life Ministries, will be hosting several events throughout the month of September. Her book My Prayer Chair and the Spanish version Mi Sillon de Oracion have been in high demand, so Carla will be signing books at several locations. Information on this incredible look at the evolution of prayer life, published by Next Century Publishing, can be found on Carla's website, Amazon and NextCenturyStore.com.
Carla will have a busy September beginning on Saturday, September 6, 2014 with the community-wide event at Christ Fellowship in McKinney, Texas. This event, known as "Christ Fellowship en Espanol," will feature Carla and the Spanish version of her book. Visitors can have their book signed by Carla and learn more about this fascinating prayer life study.
On September 8, the Hilltop Lakes Chapel Women's Bible Study group will feature a Reflecting Him Kickoff, and on September 10 the Hispanic Women's Estudio Biblico will also kickoff at The Woodlands UMC. Both of these Bible studies are designed to allow women to meet with Carla and study the Scripture with her in a more intimate setting than her large group speaking engagements permit.
Finally, Carla will appear on September 18 at the screening of the First Love feature film at The Miller Theater in Navastoa, Texas. This incredible movie is designed to reach a wide audience with a message of Christ's grace and love.
Carla's busy September reflects her dedication and love for the Word that regularly takes her all over the country and the world, spreading the message of the Gospel and reaching the hearts of others with her simple teachings and message.
About Carla McDougal:
Award-winning author and speaker, Carla McDougal founded Reflective Life Ministries in 2008. Her true passion is her Lord and Savior, Jesus Christ. It humbles her to realize His love, grace, and mercy go beyond her understanding. She truly believes laughter is medicine from the Lord that breaks down walls and removes the masks in our lives. As a result, God has taken her around the world to encourage others to live every day for Him. Her latest book, My Prayer Chair, won multiple awards in 2013 and is now available in Spanish. Carla and her husband, Fred, live in the Houston, TX area and have three sons, one daughter, and two daughters-in-"love." She smiles to think of the experiences God has allowed in her life to teach and remind her "He is in control."