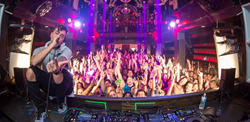 MyRSVP is the most convenient way to get into all of Chicago's top clubs
Chicago, IL (PRWEB) January 30, 2017
MyRSVP, the top-rated nightclub concierge company, announced today that it has expanded into Chicago, bringing a new level of VIP service to the Windy City's vibrant nightlife scene.
Based in Las Vegas, MyRSVP has set itself apart by focusing exclusively on the best nightclubs and pool parties. Through years of experience and dedication, the renowned concierge company has developed a service that takes the guesswork and confusion out of going to the most popular clubs. Now MyRSVP will be bringing that expertise to Chicago, giving guests a brand new way to avoid long lines and quickly order bottle service and VIP tables.
Known for its influential architecture and impeccable style, Chicago's award-winning nightclubs take full advantage of the city skyline. Incredible venues like Roof at the Wit and Vertigo Sky Lounge give tourists and locals a chance to see the city like never before, and The Underground was named the "sexiest place in the world" by Cosmopolitan Magazine. From Studio Paris to Sub 51 to Sound-Bar, MyRSVP is the most convenient way to get into all of Chicago's top clubs.
MyRSVP has spent time identifying the top hosts and owners at each venue to work with. The online nightclub guide allows users to select the club that suits them and connects them directly with the top point of contact after filling out the form. There are no middle men, no hidden costs or fees allowing the would be club goer to book a night out seamlessly and enjoy their experience.
In addition to nightclubs, MyRSVP has dissected the buffet of dining options in the windy city by creating a top 5 list broken down by categories. Whether it's a succulent cut of beef at Benny's Chop House, or an Asian fair at Yuzu Sushi & Robata Grill; MyRSVP has done the research to take the guess work out and narrow down the top places to eat in Chicago.
Today's announcement is part of MyRSVP's push to expand into the most popular nightlife destinations around the world. The concierge service is currently available in Las Vegas, London, New York City, Miami, Vancouver, Seattle, Portland and San Francisco, with additional city announcements in the coming months.
MyRSVP intends to revolutionize the way Chicago experiences the nightlife.