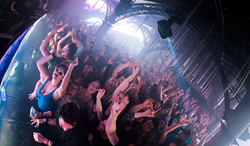 It shouldn't be this difficult to book reservations at nightclubs and pools parties around the world and we're aiming to remedy that.
Toronto (PRWEB) February 15, 2017
World-renowned luxury club concierge company MyRSVP announced today that it will be bringing its finely-tuned expertise to Toronto in the first quarter of 2017, offering a better way to experience the city's unforgettable nightlife scene.
By focusing exclusively on the best nightclubs and pool parties, MyRSVP has become the go-to concierge service for celebrities, athletes and everybody looking to be treated like a VIP. Now the Las Vegas-based company will be extending their services to Toronto, giving clients the power to avoid long lines and reserve the best tables at all of the most popular clubs.
Either through the website or toll-free phone number, the service is designed to put the club-goer in control like never before. MyRSVP is led by lifestyle management professionals who will help clients get the most out of the clubbing experience. In Toronto, MyRSVP has identified the top club host or club manager to handle all inquiries and reservations.
"Our goal in each city is simply connecting the right people. It's always been a poor experience trying to find the right place to go and the right person to talk to... wherever I travel" Says owner Adam Sadie. "We're continuing to create a network of the top nightlife persona in their respected cities, and open that network to the public. Traditionally people spend more money on going out than they do at dinner or even their travel accommodations. It shouldn't be this difficult to book reservations at nightclubs and pool parties around the world, and we're aiming to remedy that."
This is a move designed to help draw attention to Toronto's wild and diverse nightclub scene, which includes the vintage style of Cube Nightclub and the Hamptons-inspired fun of EFS. Muzik Pool Bar takes the party outdoors, offering three unique pools and North America's largest patio. There's also Uniun Nightclub, which pays homage to the city's colorful past, as well as Switch Nightclub, a popular hotspot that mixes the best elements of a dance club, lounge and gentlemen's rec room.
In addition to the nightclubs and pool parties, MyRSVP have narrowed down the top restaurants and dining locations in Toronto. From the top cuts of beef at Michael's on Simcoe, to east coast seafood at Volos, MyRSVP recommends the best of the best in eight different categories of cuisines.
Coming only a few months after expanding into Vancouver, British Columbia, today's announcement marks the concierge company's second move into Canada. MyRSVP is currently available in Las Vegas, Los Angeles, London, New York City, Miami, Seattle, San Diego, San Francisco, Scottsdale and Chicago, with additional city announcements expected in early 2017.