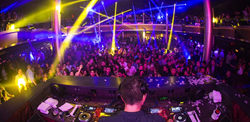 I would recommend MyRSVP without question
San Diego, CA (PRWEB) July 23, 2016
California's birthplace is also home to some of the wildest party destinations on the planet. From the star-studded Omnia to the cutting-edge sophistication of Parq Nightclub, San Diego plays host to an exciting and expanding selection of the world's best dayclubs and nightclubs.
MyRSVP offers a groundbreaking service designed to put the power back in the hands of the club-goer. This game-changing approach puts you in direct contact with a host at the venue, taking the confusion out of booking VIP tables, cabanas and bottle service at all of the top clubs and pool parties in San Diego. This includes some of the most talked-about party spots in the world, including FLUXX Nightclub, 207 at Hard Rock Hotel, Bang Bang, Side Bar and Cake.
San Diego is also known for its exquisite selection of mouth-watering restaurants. From the finest dining to the best in casual fare, San Diego has something for every pallet. MyRSVP makes finding the perfect restaurant simple, including top picks like Greystone the Steakhouse, Nippon Sushi Bar, Mimmo's Italian Village, Las Cuatro Milpas, Truluck's Seafood Steak & Crab House, and more.
From professional athletes to poker pros and CEO's, more and more people are calling on MyRSVP to handle their holiday travels. "MyRSVP have taken care of me now for seven years, and each time I come, I don't think they'll be able to top the year before but they always do. From restaurants to nightclubs and pool parties, they look after me and my boys from the moment we get there to the moment we leave. I would recommend MyRSVP without question. They'll look after you and make your trip is one you'll never forget!" writes premiership veteran and Everton midfielder, Aaron Lennon.
MyRSVP will allow San Diego to take control of the party scene like never before. MyRSVP is the easiest and most convenient way to book VIP tables, cabanas and bottle service at all of the top clubs in San Diego, and beyond.