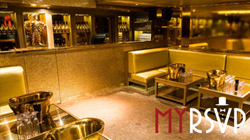 "MyRSVP is my only choice... I've used them for years. They're the only company I trust and always deliver the best service." - Amir Khan
(PRWEB) March 06, 2016
Having already earned a reputation as one of Las Vegas' top personal concierge companies, MyRSVP is set to bring its unparalleled service and convenience to the London party scene.
Say goodbye to long lines and uncertainty, because MyRSVP's game-changing service puts inquiring customers in direct contact with the top owners/waiters in London, taking the confusion out of the clubbing experience. Whether it's a bachelor/bachelorette party, corporate outing or a simple weekend with friends, MyRSVP specializes in assisting partiers with all of their nightlife and entertainment needs.
MyRSVP gives exclusive access to all of London's top clubs, including The Box Soho, Maddox Club, Drama Park Lane, Libertine Club, DSTRKT, Project Club and many more. This convenient site makes it easy to not only find the nightclub right for a night out, but also assists with booking reservations for the most sought-after VIP tables.
"For the most reliable service at the best spots.. I wouldn't use anyone but MyRSVP.." says professional tennis player James Ward.
James is just one of the countless athletes and celebs that can't stop talking about MyRSVP. "It's not just organizing the club/pool party," notes Hull City defender Curtis Davies, "but offers the hands-on service of making sure their clients are looked after whilst in the venues."
Jason Puncheon (Crystal Palace), Amir Khan (two-time light-welterweight world champion) Kevin De Bruyne (Manchester City), reality star Joey Essex and many other top athletes and entertainers have discovered that MyRSVP is the most convenient way to book VIP tables and bottle service at all of the hottest clubs.
For those looking to indulge in the finest restaurants before experiencing London's wild nightlife, MyRSVP knows all of the best dining destinations. From the mouth-watering cuts found in Flat Iron and Hawksmoor Steakhouse to London's freshest sushi choices at Zuma and Kirazu, to dining with a scene at hot spots like the west end's Novikov; MyRSVP's helpful guide provides reviews and information on a buffet of dining choices for every cuisine and category in London.
Take command of the London nightlife like never before. No matter what the occasion, MyRSVP is the new way to effortlessly reserve VIP tables and bottle service at all of the top nightclubs and venues.