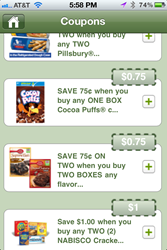 We still do a great job of taking the work out of saving money.
New York, New York (PRWEB) March 10, 2014
PDN, a leading purchase path network, compared printable coupon usage in the app Shopper today with 3 years ago, finding:

Total value redeemed by a coupon user declined to $10.14 (from $13.44) likely the effect of today's Shopper users being younger. Some have never clipped or printed a coupon to take to a store.
Shopper coupon users save at 3X the national average published by Inmar, ($31.30 versus $10.75) validating Shopper's automatic matching of savings.
Interestingly, the average face value of a coupon printed in the last month was $2.39, significantly above the anecdotal $2 attraction point, and at least one coupon was worth over $10.
There remains pent up demand for different and healthier coupons from those that do print.
"A decent core of very busy Moms are still happy with printing and those users are still saving a significant amount each month through Shopper's automatic coupon matching. We still do a great job of taking the work out of saving money," said Sean Flynn, CEO of the Purchase Decision Network, "but I think we can see a move to digital coupons as well as a bit of an uptick in the economy in these results."
Shopper uses proprietary shopping keyword technology to automatically match what users are shopping for with everything from coupons and store savings to nutritional information. Mr. Flynn added: "We've also made it easy to help others by sharing their savings links with each other. Given the regional variation we see in coupon preferences we hope this evolves into a powerful tool for community personalization of our savings offers."
Shoppers can visit http://www.MyShopperApp.com for more information or to download the application.
About The Purchase Decision Network and Shopper
The Purchase Decision Network (New York) is the first and only native advertising network for CPG brands. PDN includes shopping apps that reach consumers across the purchase path as they plan, shop in stores and engage with the brands they love. PDN powers over 10MM shopping trips a month through best selling apps including Out of Milk, Buy Me a Pie, Scan2List and Shopper.
Contacts
Sean Flynn, CEO
The Purchase Decision Network
(888) 816-8125
pr(at)pdnmedia(dot)com