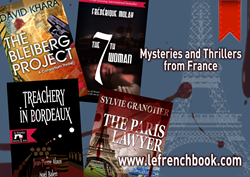 A good story remains a good story whether it's on paper or in electronic bits.
New York, New York (PRWEB) August 28, 2013
"Readers are more interested in stories than in formats," says Anne Trager, founder of the digital-first publishing house Le French Book. "Our job as a publisher is to make those stories available however we can, to the widest possible audience." For Le French Book the recent explosion in e-reader and tablet ownership provides a perfect medium to introduce readers to great French authors that haven't previously been translated, but it is only the first step.
After recently announcing that it secured print rights for The Paris Lawyer by Sylvie Granotier, Le French Book has also negotiated those rights for two other of its other initial mysteries and thrillers from France. Co-founder Fabrice Neuman says, "We believe that the different formats feed each other and build a dynamic. People read in a lot of ways these days."
This has been Le French Book's conviction since the beginning, and not surprisingly this approach parallels transformations in other media industries, including television. At the Edinburgh Television Festival, Kevin Spacey commented on the success of his recently released Netflix show: "House of Cards proved one thing, the audience wants control. They want freedom…give people what they want, when they want it, in the form they want it, at a reasonable price…The device or length are irrelevant. The labels are useless…It's all content. It's just stories."
For Fabrice Neuman, "It's time the publishing industry learns this lesson too: let's give readers the stories they want to read in whatever form and shape they want them. A book is a book is a book, and a good story remains a good story whether it's on paper or in electronic bits."
The Winemaker Detective
With this in mind, Le French Book secured print rights for Treachery in Bordeaux by Jean-Pierre Alaux and Noël Balen, a total Epicurean immersion in a new wine-plus-crime subgenre. This short mystery is both a wine novel and a whodunit that is the start of the 21-book Winemaker Detective Series. It plunges readers into French countryside and gourmet attitude with two amateur sleuths gumshoeing around Bordeaux wine country.
This journey to Bordeaux takes readers behind the scenes of a grand cru wine estate that has fallen victim to either negligence or sabotage. What happened and why?
It's a "fine vintage," according to bestselling author Peter May.
Nico Sirsky, Chief of Police
Le French Book also secured print rights to The 7th Woman by Frédérique Molay, who the former head of Agence France Presse calls, "the French Michael Connelly." This edge-of-your-seat Paris mystery is the first in a series that revolves around Chief of Police Nico Sirsky and the elite criminal investigation division in Paris. It was a blockbuster prizewinner in France.
Readers are whisked away to Paris, where beautiful-sounding names and places surround ugly crimes. In this first-in-series, Chief of Police Nico Sirsky's personal life and new love are in danger of being shattered by a vicious killer.
ForeWord Reviews calls it "a slick, highly realistic, and impeccably crafted thriller. Likeable characters, outstanding pacing, and unexpected plot twists keep readers guessing throughout…an extraordinary, hard-hitting novel."
Contact Le French Book for review copies.
About Le French Book
Le French Book (http://www.lefrenchbook.com) is a New York-based digital-first publisher specialized in great reads from France. The company's motto is, "If we love it, we translate it."
©2013 Le French Book, Inc. All rights reserved. Information is subject to change without notice.