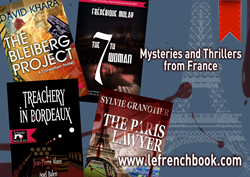 A key part of our job is getting the word out to the new readers who may never have heard of these French superstars
New York, New York (PRWEB) July 23, 2013
Discoverability is key for books to find their audience. Le French Book is specialized in publishing translations of France's top mysteries and thrillers. But for Anne Trager, the company's founder, "It's all well and good to have prizewinning, bestselling authors and translators, but a key part of our job is getting the word out to the new readers who may never have heard of these French superstars."
As part of this effort, Le French book is now making its titles available through NetGalley, an online service to promote and publicize forthcoming titles to professional readers of influence.
As an ebook-first publisher, Le French Book has sought out ways to get its titles in front of the media via an electronic medium. As David Vinjamuri pointed out in a recent article in Forbes, "Publishers have given away early copies of upcoming books to reviewers for years. Until recently, this was nearly impossible to do for ebooks."
Today it is possible, and one way is through NetGalley, which has made it easier to read digital galleys on the usual ereading devices. Vinjarmuri points out that the service's "member base has soared to over 100,000, putting it at a scale to influence the success of a book's launch. The size and breadth of this community – which will continue to grow – affords even smaller publishers the ability to reach a critical mass of influencers."
"We are happy to be using this service, and so far have found it a great way to get the word out to bloggers and other reviewers and develop working relationships with these professional readers," says Anne Trager.
Le French Book's most recent launch, an adrenaline-pumping WWII conspiracy thriller The Bleiberg Project, is one example of the titles up on NetGalley. Anyone who has ever wondered what would happen if Hitler's atrocities were not really over, and how a depressive Wall Street trader was going to save the world, now is the time to read a copy. This title is currently available through NetGalley's "read now" option.
"This is a perfect example of what I mentioned earlier," Anne Trager says. "This book was an instant success in France, selling over 100,000 copies. Now, we need to get the word out to English-language readers."
Over 200 publishers worldwide use NetGalley to interact with professional readers. Reviewers, bloggers, media, librarians, booksellers and educators can register for free at NetGalley, and request digital galleys from the catalog, or be invited to view a title by a publisher using the NetGalley widget. Once approved by the publisher, NetGalley members can view secure digital galleys on all major reading devices.
NetGalley is part of Firebrand Technologies (http://www.firebrandtech.com), which provides leading software and services to help publishers achieve success, including title management software, metadata services, content, design and conversion services, along with NetGalley, which delivers secure, digital galleys to professional readers to help promote and market new books. Find out more at http://www.netgalley.com.
About Le French Book
Le French Book (http://www.lefrenchbook.com) is a New York-based digital-first publisher specialized in great reads from France. Founder Anne Trager says, "There is a very vibrant, creative culture in France, and the recent explosion in e-reader ownership provides a perfect medium to introduce readers to some of these fantastic French authors." It launched with top-selling mysteries and thrillers. Their motto is "If we love it, we'll translate it."
©2013 Le French Book, Inc. All rights reserved. Information is subject to change without notice.