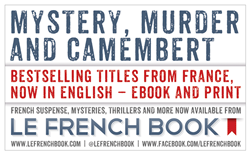 New York, New York (PRWEB) January 30, 2015
Mystery and thriller publisher Le French Book sets out to translate France's top mysteries and thrillers in English. This month, one of their authors received a literary prize and a second was short-listed for another prize.
Author, screenwriter and actress Sylvie Granotier loves to weave spine-tingling plots. She has over sixteen novels to her name in French and is considered one of France's masters of crime fiction. Her suspense novel The Paris Lawyer, available in English, won the Grand Prix du Sang d'encre when it was released. It's a psychological thriller about coming to grips with a traumatic past.
This month, Sylvie Granotier won yet another French literary award for her most recent work of fiction, "Personne ne saura rien," which is not yet available in English. The award "Mauvais Genre" is give by a similarly named radio show dedicated to writing that crosses genres. The award is given by the radio station France Culture in association with the magazine O.
Another of Le French Book's award-winning authors, Bernard Besson, was also shortlisted for an award: the "Polar en série" prize is a new award to be given at the prestigious Quais du Polar Festival held in Lyons in March. The award is designed to promote books that have a strong potential to be adapted into a TV series. Besson has several books to his name, and one title available in English: The Greenland Breach, a powerful eco-thriller with political and industrial intrigue and cutthroat espionage. The book that was shortlisted is a sequel. It's not yet available in English, but Le French Book has acquired the rights and is aiming for a 2016 release. The core team of French operatives find themselves mixed up in a high-speed world of rare earth trading and international corruption.
About Le French Book
Le French Book (http://www.lefrenchbook.com) is a New York-based publisher specialized in great reads from France, with a growing catalog of top contemporary mysteries and thrillers with a French touch. An IPS publisher.
©2015 Le French Book, Inc. All rights reserved. Information is subject to change without notice.