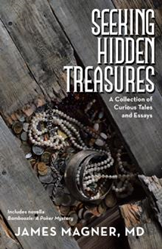 WOODBRIDGE, Conn. (PRWEB) August 28, 2019
James Magner, MD releases a book containing a collection of eleven short stories, five essays and a novella to present engaging plots with diverse characters. "Seeking Hidden Treasures" (published by Archway Publishing) shares struggles and joys of an eclectic group of characters on unique quests to find riches with the potential to change their lives forever. Plots include finding buried gold, lifting cash from gangsters, winning at poker, smuggling assets out of Nazi-occupied Vienna (true story), falling in love and other clever tales.
Magner has always loved reading and watching detective stories with clever plots. He has dozens of ideas for short stories but had little time to write due to his work as a physician and scientist.
"I had some interesting ideas about intriguing mysteries, the meaning of life, and the role of chance in life and poker. So for this book of wide-ranging ideas I chose the unifying concept of Seeking Hidden Treasures," he expounds.
The book contains philosophical discussions that are reflected in the dialogues that render enjoyable and thought-provoking reading. With these stories, Magner provides important lessons and insights.
"There is a lot of luck in life (just as in poker). We cannot avoid random events, which may be bad, although sometimes they are good. We need to understand randomness well and then position ourselves intelligently in life to mitigate the harms and take full advantage of the benefits," Magner imparts. For more details about the book, please visit https://www.amazon.com/Seeking-Hidden-Treasures-Collection-Curious/dp/1480879282.
"Seeking Hidden Treasures"
By James Magner, MD
Hardcover | 6x9 in | 328 pages | ISBN 9781480879294
Softcover | 6x9 in | 328 pages | ISBN 9781480879287
E-Book | 328 pages | ISBN 9781480879270
Available at Amazon and Barnes & Noble
About the Author
James Magner, MD is an endocrinologist and scientist who spent years studying the biochemistry and physiology of the pituitary hormone, TSH and providing medical supervision for several projects within the pharmaceutical industry. He is an avid chess player and an expert poker player who placed twenty-seventh in the world in 2015. Dr. Magner is married and has two adult daughters. This is his debut collection of fiction, and his third book.