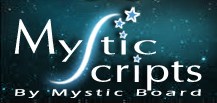 Free Astrology, Numerology, Psychic, Tarot Readings!
(PRWEB) October 08, 2013
Mystic Scripts recently published the horoscope details of all the 12 Zodiac signs for the year 2014. Those who are eager to know how the next year would turn out for them can take a look at their horoscope predictions as per their Zodiac signs.
There are hundreds and thousands out there who believe in horoscopes and eagerly wait for their annual horoscope predictions for the upcoming year. To end the wait of all those people, Mystic Scripts recently released their horoscope 2014 for all 12 Zodiac signs. Those who want to know the predictions of how their next year is going to turn out can log on to the website and get all the information.
Along with 2014 predictions, people can also get details on other astrology predictions, dates, astronomical tables and other calculations related to astrology. The website, which talks about various other astrological events 2014, gives a new light to astrology simplifying it for common people who are less aware of the science of astrology.
Talking about the need of know the horoscopes, one of the heads at Mystic Scripts was quoted as saying - "Why do people refer to horoscopes in the first place? What is so special about them? You have to admit that everyone is curious to a certain extent about how his or her future will turn out to be. Horoscopes are the best way you can get answers to all your unanswered questions."
Mystic Scripts also announced Chinese horoscopes 2014 along with the regular horoscopes of 12 Zodiac signs. There are 12 signs even in Chinese horoscope named on different animals such as rat, ox, tiger, rabbit, dragon, snake, horse, sheep, monkey, rooster, dog and pig.
Talking more about Chinese horoscopes, one of the heads of Mystic Scripts said, "The 2014 Chinese horoscopes give you an excellent idea of how the coming year is going to turn out to be. Chinese astrology has since long been one of the most preferred forms of future predictions. Read on to know more about how 2014 will be for you in matters of love, family, relationships, career, health, wealth and education."
People interested in knowing more about their 2014 horoscopes can download Mystic Scripts apps for Android devices.
About the Company
Mystic Scripts is a horoscope website, which releases annual horoscope details of different types for people who want to know about their future predictions. Along with astrology, Mystic Scripts also gives information on Tarot, Numerology, Biorhythm, Divination, Compatibility and much more.
To know more about Mystic Scripts, visit http://www.mysticscripts.com.