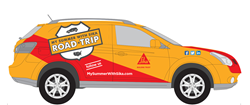 "This adventure provides a great opportunity to stay up-to-date with the new trends, as well as to understand the future needs of the markets to which we're providing solutions." says Christoph Ganz, President & CEO of Sika North America.
Lyndhurst, New Jersey (PRWEB) July 12, 2016
Sika Corporation is proud to announce the start of its new innovative campaign: My Summer with Sika. From July 5 to September 9, two new Sika employees, Matt Bowman and Eric Kritzer, will cross the United States to meet with and observe Sika partners in action.
From NYC to Miami, from Dallas to Los Angeles, from San Francisco to Seattle, from Denver to Chicago, from Detroit to Boston, their cross-country journey will take place in a Sika-branded car, and they will lead their followers through a slew of Construction and Industry projects. As Sika prides itself on education and training, Sika Corporation will use the content of "My Summer with Sika" to promote the best practices in the industry.
Follow along with this adventure @mysummerwithsika.com and get insights through our social media:
Facebook @ https://www.facebook.com/sikausa
LinkedIn @ https://www.linkedin.com/company/sika-usa
Twitter @ https://twitter.com/Sika_USA
Instagram @ instagram.com/sikausa/