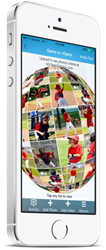 We've succeeded in simplifying youth sports by combining management and communication tools with a private social network.
Sacramento, CA (PRWEB) February 10, 2016
Launching today, My Team Sphere is an app/web platform for the youth sports industry. Available on iPhone and Android, My Team Sphere serves the needs of leagues, coaches, parents, kids, and sponsors by providing easy-to-use management and communication functions in an entertaining private social community format. My Team Sphere is completely free for teams to use and generates revenue from national and local sponsors who are an integral part of youth sports team communities.
Youth Sports Industry is Huge
Youth Sports is a $7b business with an estimated 42 million kids who play organized sports each year. Of that, 21 million are also involved in for-profit youth sports leagues, which have been expanding due to several factors including budget-driven program cuts at schools, parents who increasingly see sports scholarships as a way to defray the rapidly rising cost of college of tuition, and a general fear on the part of parents that their kids will otherwise get involved in unhealthy activities.
The Achilles Heel of Youth Sports
Technology has the potential to make youth sports more fun and organized, but recent trends with privacy and digital bullying have made parents, Coaches and youth administrators increasingly concerned about kid's safety, thereby limiting the benefits of technology. Team Sphere is designed from the ground up to address the specific privacy and safety needs of the youth sports community.
Unique Approach of the My Team Sphere Platform
The unique approach of MyTeamSphere.com App is that it combines a full suite of easy-to-use logistics and communication tools with a private social network for each team. The social network provides a fun and private environment for players, parents, and other participants to share their team passion with photos, videos, likes, and comments while the management functions make it easy for team managers to communicate important information across the organization. The easiest way to envision Team Sphere is to think of it as a private Facebook for youth sports teams, with the added benefit of sports-specific management and communication tools.
Team Sphere Management & Communication Functions:
1) Season schedule by day, week, and month
2) Email & text alerts (with/without App installed)
3) Player availability tracking
4) Document Upload through Dropbox
5) Game Scoring - Assign to any user
6) Person to Person Messaging
7) Roster and Contacts
8) Team News
9) Payment & Item Tracking
10) Assign Refreshment duty to anyone
My Team Sphere Private Social Network Features:
1) Private photo & video sharing albums
2) Upload via app or desktop at MyTeamSphere.com
3) Save photos to phone
4) Social functions: Like & Comment
5) Coach & Manager moderation: Delete comment or post
6) Fan view of game albums for distant relatives
7) 3D sphere albums
8) 3-minute video uploads
9) Tag players in each photo
10) Download photos or videos to desktop at MyTeamSphere.com
Youth sports offer fun and rewarding experiences for kids, but they involve numerous logistics and coordination challenges for leagues, coaches, and parents. Mismanagement of these functions is a major problem in the industry with parents citing disorganization, lack of communication and inconvenience as big problems.The My Team Sphere app platform solves this problem with a suite of app-based information management and communication tools, which provide team participants a convenient way to meet commitments and enjoy the youth sports experience!