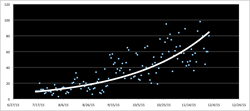 "Its features are easy to use and adapt, and it touches on many areas that parents, coaches, families and perhaps even brands may enjoy"
Sacramento, CA (PRWEB) March 01, 2016
According to Joe Favorito (@joefav), youth sports aggregation remains a vast untapped holy grail for marketers. The space is so widespread and so fragmented that nobody really knows how big it is. Various estimates, including a recent study by ESPN, have it in the range of $7b annually. In this thought-provoking interview with My Team Sphere founder, Medo Eldin, Joe probes for the numerous obstacles which have prevented many companies from successfully aggregating youth sports onto a single platform.
My Team Sphere, a social youth sports app platform which features a dynamic 3D sphere user interface, is taking an entirely new approach to overcoming these obstacles and has shown intriguing signs of succeeding where others have failed. In the interview Joe and Medo discuss how and why the platform is expanding, the revenue model, branding, and most notably, the network effects the platform has shown within extended youth sports team environments.
Highlighting the potential of My Team Sphere, Medo states, "My Team Sphere will succeed in aggregating and monetizing youth sports because it was built from the ground up to serve all stakeholders in the youth sports value chain. Everything from our technology to our business model is in sync with the dynamics of youth sports. Simply put, we give everyone a reason to say yes, and we can deliver."
A full transcript of the interview is available on Joe Favorito's Sports Marketing Blog.