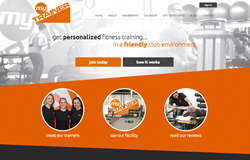 Before the Idea team began building our new website, a list of expectations had been identified. Now that the website has been launched, the list of possibilities and expectations has exploded.
Highland Park, IL (PRWEB) April 30, 2014
myTRAINER in Highland Park, IL is a fitness membership club providing flexible accessibility for their members to utilize the gym as well as the personal training services.
In their 3000 square foot gym filled with on-staff personal trainers, they provide fitness training that fits into the busy schedules of their members. The atmosphere at the myTRAINER gym is a friendly and high-energy environment designed to keep club members motivated until they reach their fitness goals from weight loss to distance training or just maintaining good form.
myTRAINER membership has continued to grow, they have new equipment and the only piece of their program that wasn't complete was an older website that didn't correspond with the companies goals or integrate their MindBody membership system. They needed a website that was easy to navigate, motivational, and user-friendly, so they came to Idea Marketing Group.
myTRAINER needed to redesign their website and hired Idea Marketing Group, a Chicago web design firm to develop a custom Wordpress website built with strong SEO aspects with an integration to their MindBody system for membership management and gift cards.
"At the highest level, my goals included building the reputation and value of the business. The new website that Idea created and recently launched was a first important step toward clearly communicating what myTRAINER is all about. In addition to providing those searching the web with the information they need to differentiate us from others, it also provides myTRAINER employees with a uniform template for interacting with new and prospective clients," says Keely Knack, owner of myTRAINER in Highland Park.
myTRAINER wanted a website with a sleek new look, an easy to use navigation, and something they could update by themselves. It was also important that they had a good integration feature between the MindBody system and the website for membership management. The new website was built on the Wordpress platform and optimized for search. Idea also set up a consistent internet presence on all the major social media platforms to help strengthen the myTRAINER brand. The final result was a new clean-look with a looping video background to better hold the users attention. It is a user-friendly website, with updated blog and membership features that myTRAINER staff can use to help inspire and motivate others throughout the year.
Visit myTRAINER's website here.
Idea Marketing Group, a Chicago web design company, offers web design, web development, and marketing services to clients nationwide. With additional specialties in branding, graphic design and marketing services. Idea draws from experienced, in-house talent paired with unmatched customer service at award-winning levels.