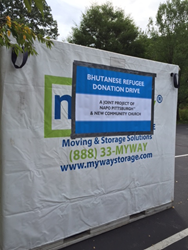 Pittsburgh, PA (PRWEB) August 20, 2015
MyWay Mobile Storage is pleased to have joined with the Pittsburgh chapter of the National Association of Professional Organizers (NAPO) to support their 2015-2016 community service project to provide donations—household items, and small furniture—to the Bhutanese Refugee population of Carrick. Event organizer, Lynn Dubinett, NAPO Technology Director, said, "NAPO Pittsburgh's current goal is to provide donations in the categories of kitchenware, bedding, bathroom, and children/baby items. The additional category of smaller furniture will be collected at a donation drive on August 29th and August 30th at New Community Church in Wexford." Dubinett went on to say, "This project wouldn't succeed without the generous support of MyWay Mobile Storage, who provided several storage units to collect the donations and the New Community Church of Wexford, who let us use their facility as our primary collection site. We also count on the many NAPO Pittsburgh members who step up to volunteer to help out with the project."
Ed Sickmund, MyWay Mobile Storage owner, said, "MyWay is happy to be able to help with this project. Really, it couldn't be a better fit for us to help NAPO collect donations for these refugees." He continued, "I didn't really know anything about the refugees from Bhutan. Pittsburghers may not realize, but this area is now home to the largest concentration of Bhutanese refugees in the U.S."
The Lhotshampa people fled ethnic conflict in Bhutan and settled in refugee camps in Nepal in the early 1990s. They abandoned homes and farms where they had grown oranges, cardamom, rice and lentils for generations. In 2008, the United Nations Refugee Agency began a relocation effort after several failed repatriation attempts. As a result of the resettlement effort, more than 77,000 have come to the United States. Between 2008 and 2012, more than 6,000 were sent to live in Pennsylvania with the help of social service agencies—the most of any state.
While many came to Pittsburgh directly from the refugee camps in Nepal, many more have migrated here from other American cities where they were first relocated for some familiar reasons: a robust job market and a tight-knit community. They hear that Pittsburgh, looks like southern Bhutan, with its lush hillsides. However, each refugee is allowed only a small amount of personal possessions for the move across the world. One duffle bag per person is the usual, although some travel with even less. This project strives to collect household items that will help make their Pittsburgh homes feel like home.
To learn more about Bhutanese Refugees:
Go to the Pittsburgh Post-Gazzette's wonderful interactive story with photographs at http://newsinteractive.post-gazette.com/longform/stories/refugees/ by Moriah Balingit—story and Julia Rendleman—photography. See also http://modernnotion.com/how-4000-bhutanese-refugees-now-call-pittsburgh-home-heres-got/ and http://triblive.com/neighborhoods/yoursouthhills/yoursouthhillsmore/7718506-74/diwas-lost-shangri#axzz3j0w6Prlk
About NAPO Pittsburgh:
NAPO Pittsburgh is a chapter of the National Association of Professional Organizers (NAPO). NAPO is a non-profit professional association whose members include organizing consultants, speakers, trainers, authors, and manufacturers of organizing products. Founded in 1985, it is the largest national association of and for organizers with over 4,000 members throughout the world. NAPO's mission is to develop, lead, and promote professional organizers and the organizing industry. To learn more about NAPO Pittsburgh visit http://www.napopittsburgh.org/
About MyWay Mobile Storage:
MyWay Mobile Storage is the leading provider of moving and storage solutions and located in a spacious 27,500 square foot facility in West Mifflin, PA to better service their customers in the metropolitan Pittsburgh area. They provide quick and easy do it yourself moving containers that can be delivered right to your door and stored in their climate controlled, secure storage facilities.