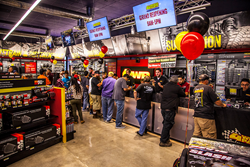 So far, our regular customers have checked in on the progress of the showroom and we've definitely achieved a wow factor.
Compton, California (PRWEB) December 10, 2015
4 Wheel Parts, the global leader in off-road performance product sales and installation, is staging a grand reopening celebration at its Tampa, Florida location this Saturday, December 12. The Tampa retail store has been redesigned with a state-of-the-art showroom and installation facilities catering to off-road enthusiasts in the Gulf coast region. Both the Tampa store and the Mesa, Arizona location are holding grand reopening celebrations Saturday and join 4 Wheel Parts' lineup of 72 retail stores across the United States and Canada.
"So far, our regular customers have checked in on the progress of the showroom and we've definitely achieved a wow factor," says Jesse Hatfield, Tampa 4 Wheel Parts Store Manager. "At the celebration we're going to have local vendors, the wildlife rescue with tigers and bears and a bounce house for the kids." Blackwater Jeepers, Trail Monkeys and Tampa Jeep Crew are local Jeep clubs that will also be in attendance.
Off-road enthusiasts will get an up-close look at truck, Jeep and SUV products from top manufacturers like Bilstein, Mickey Thompson, Rock Krawler and N-FAB at the free, family-friendly event. The store's ASE-certified technicians will be performing installations with deals on select parts and accessories purchased onsite.
"4 Wheel Parts has had great success with our project revolution and reopening these two locations this weekend shows our commitment to modernizing our showrooms as attractive destinations for off-road enthusiasts," says Greg Adler, 4 Wheel Parts President and CEO. "We've enjoyed a significant increase in sales after remodeling and will continue to evolve our in-store experience with plans to remodel 18 more stores next year."
What: 4 Wheel Parts Grand Reopening Celebration
When: Saturday, December 12 from 9 a.m. – 5 p.m.
Location: Tampa, Florida
9222 N. Florida Ave.
Tampa, FL 33612
813-930-6145
About 4 Wheel Parts 4 Wheel Parts is the global leader in off-road truck, Jeep and SUV aftermarket performance products. With 72 locations across the U.S. and Canada and growing, 4 Wheel Parts Service Centers install all the products they sell. Maintaining the nation's largest inventory of wheels, tires, lift kits and Jeep Wrangler accessories, 4 Wheel Parts serves customers across the country and around the globe. Life is Better Off-Road™. Visit them at 4wheelparts.com or call toll-free 877-474-4821.