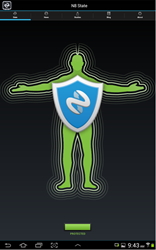 Washington, DC (PRWEB) November 07, 2013
The "N8 State" mobile Android application was featured on NewsWatch as part of its popular segment, AppWatch, that takes a look at the latest and coolest mobile applications and services on the iOS and Android market. Andrew Tropeano, host of AppWatch, conducted the app review and shared with viewers how the app is able to protect mobile users from radiation emitted by their phone.
N8 State is the only app on the market that is able to protect mobile users from radiation emitted by their phone through a patent pending technology that obstructs harmful wave interactions with your body's cells.
According to the creator, there's a test you can do to see whether the app works or not. You simply hold the phone at your leg and receive a call. A friend pulls on your arm to tip you over. When the app is on you're considerably stronger and more balanced than when it's not.
While the science surrounding the effects of low-grade radiation related to mobile devices is still being researched, some doctors urge particular caution with children for a good reason. The N8 app offers protective benefits for all of its users. Radiation-emitting products are omnipresent. Smartphones, computer screens, televisions, wireless networks and more produce low-grade electromagnetic radiation. Blocking the potentially dangerous waves can help maintain healthy bodies at the cellular level, leading to overall improved health outcomes.
To learn more or try N8 State, go to the Google play store and search N8 State.
About NewsWatch
NewsWatch is a weekly 30-minute consumer oriented television show that airs monthly on the History Channel and weekly on the ION Network. NewsWatch regularly features top technology products, unique and beautiful travel destinations, health tips, medical breakthroughs, and entertainment news on the show. A recent addition to NewsWatch, AppWatch is a weekly segment that provides viewers app reviews and game reviews of the latest and hottest apps and games out on the market for iOS and Android devices.
The show airs in 180 markets nationwide as well as all of the top 20 broadcast markets in the country, and is the preferred choice for Satellite Media Tour and Video News Release Distribution.
For more information or to watch the latest app reviews featured on the show, head to http://www.NewsWatchTV.com/appwatch.html.