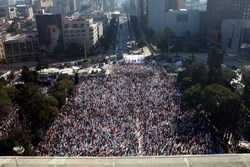 An event dedicated to peace and global collective healing for Mexico City and the world.
Mexico City, Mexico (PRWEB) January 23, 2014
WHO: Naam Mexico will host the fourth annual Naam Yoga Super Class, in collaboration with Mexico City's January Ciclotón (bike-athon). The event is dedicated to peace and global collective healing. The class attracted a record-breaking 15,000 in 2012. 25,000 people are expected in 2014. All are invited to attend this free class.
Dr. Joseph Michael Levry, founder of Naam Yoga (headquartered in Santa Monica, CA) returns to Mexico for this historic event and sets into motion the powerful, healing vibration of Naam Yoga for Mexico City and the world.
Dr. Levry is a world renowned yogi, author, composer and producer of sacred music and lecturer on the topics of self-healing, spirituality and self-actualization. Extensively trained as an engineer and in metaphysics, Dr. Levry has developed a unique system of self-healing called Naam Yoga®, which unites the spiritual doctrines of the East with Western healing arts and yogic practices.
WHEN: Sunday, January 26, 2014 8:30a.m – 10:00 a.m. (Mexico City time)
WHERE Monumento a la Independencia, Paseo de la Reforma y Eje 2 PTE, Mexico City, Federal District, Mexico
WHAT: Naam Yoga's use of sound, breath, movement and special mantra has a unique and powerful healing impact on the mind, body and spirit. The class is designed to improve health and well being.
There is data from The Institute of Noetic Sciences that indicates when large numbers of people come together, the concentrated healing impact and positive energy increases exponentially. Every participant will receive the amplified healing vibrations and contribute to the world's transformation.
The event will be broadcast live worldwide. Naam Yoga locations will also hold live viewing events in New York, Germany, Switzerland, Czech Republic, Italy, Brazil, Mexico, and New Zealand.
To join livestream, check in at http://www.naamyoga.com/superclass. The livestream is free to the public.
For additional information on the Mexico Super Class please visit Naam Yoga Superclass.
About Naam Yoga
Headquartered in Los Angeles, Naam Yoga is a new form of yoga and science that incorporates sound, movement and breathing, to increase the flow of energy in the body to achieve optimal health and well being. This rapidly-growing form of yoga is available globally, with locations in New York, Mexico and 6 other countries.
For additional information on Naam Yoga training,visit Naam Yoga Trainings.